You are here
You've Served Us. Now Let Us Serve You.
Wentworth honors U.S. veterans by making it easier for them to access our educational programs. Once you are accepted, we can help you receive the benefits you are entitled to, and provide the academic and living supports that will enable you to gain the full value of your Wentworth experience.
Please direct your general questions about how we support veterans to veteranservices@wit.edu.
Upcoming Events
Veteran Networking Reception
All veterans and service members are cordially invited to attend the next Veteran Networking Reception on Friday, April 27th, from 5:30-7: 30 PM. Veteran service organizations and veteran-friendly employers are also encouraged to attend.
Register and find out the location for this event.
Operation Money Wise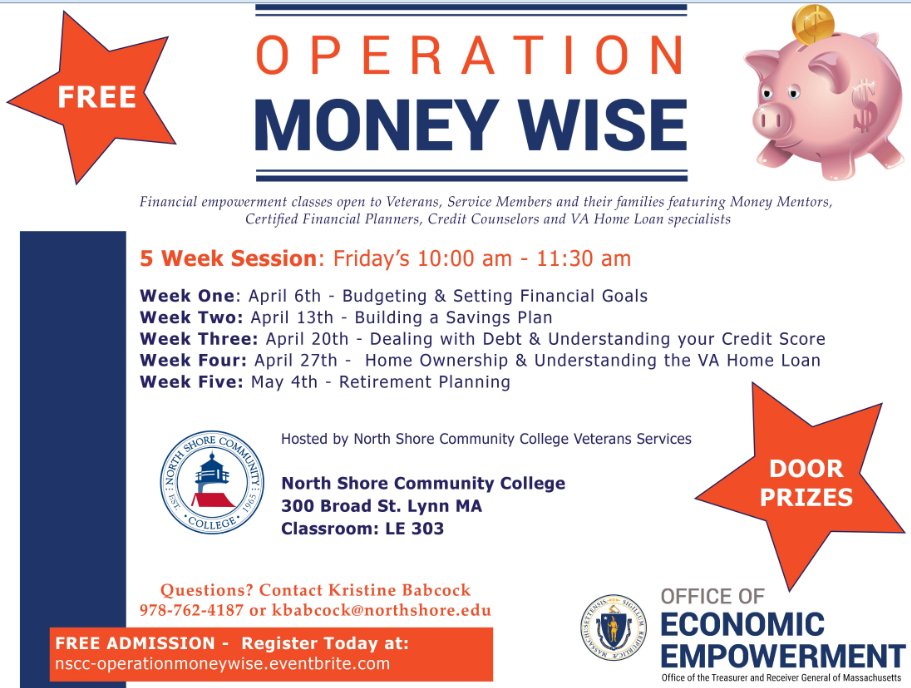 Glass Blowing Workshop
Wednesday 5/2/2018 from 2:00-8:00PM    In the MassArt Hotshop  Open to any Veterans! Maximum- 12 people
This is a free opportunity for veterans to come experience glass blowing. We will offer flameworking as well as hotshop options; casting, blowing, sculpting, taught by current glass majors. If someone has something in mind they want to make GREAT, let's make it happen! Or if they just want to try it out, all are welcome!
RSVP by phone or email to
Taylor Cheek
419-217-7408
tmcheek@massart.edu
WIT-VETs Student Organization
The WIT-VETs student organization provides a military community made up of veterans, ROTC cadets and military-connected students while fostering pride, tradition, integrity, leadership, and respect. For meeting times and information, contact veterans@wit.edu.
Veterans Services Staff
Faculty Mentors
Wentworth faculty have volunteered to serve as faculty mentors to students transitioning to higher education from military service. Several branches and academic areas are represented. Students are encouraged to email any of the listed faculty members with questions about studying at Wentworth. View a full listing of Faculty Mentors.
Wentworth Veterans' Organization (WIT-VETs)