In today's competitive job market, our Applied Mathematics graduates stand apart. Our courses are designed to develop students' mastery of not only the mathematical principles, but also their practical applications across a range of disciplines, including design, technology, and engineering.
The undergraduate Applied Mathematics degree links math with the worlds of science, technology, engineering, and social science. Through project-based learning in the Applied Mathematics program, students will learn to integrate analytical and computational tools in the modeling of physical, biological, and economic processes, while developing problem-solving skills that apply across disciplines. 
Our graduates can choose from a wide range of careers, including data science, biostatistics, software development, finance, cryptography, quality assurance, systems engineering, and operations research. Wentworth's Applied Mathematics degree is a three-year program with a four-year option. 
Why Major in Applied Mathematics?

Wentworth students are ready to get their hands dirty from day one working with the latest industry tools and technology, and our applied math students are no different. They develop mathematical solutions for today's most pressing problems.

With flexible coursework that can be completed in either three or four years, this degree is perfect for students that are looking to either graduate early and enter the workforce, or earn additional academic concentrations, such as financial mathematics, data science, or computer science. 

Actuarial Science Concentration

Students who declare this concentration are able to complete three actuarial exams before they graduate.

Collaborate on Interdisciplinary Research Projects 

Our applied math majors use their mathematical expertise to develop the foundations for projects and research across the university. Working in collaboration with other students and faculty, they create innovative solutions to questions throughout fields like engineering, design, and technology.

3-Year Program Available

Students can choose to complete the degree in three years or they can opt for a 3+1 and get a dual degree with Applied Computer Science or Data Science.

Make Lasting Professional Connections

Located near the heart of Boston, our students work closely with Wentworth's industry partners. Come graduation, they've not only earned their degree, but they've also forged lasting professional connections.

Wentworth Institute of Technology offers a three-year B.S. in Applied Mathematics, in which Applied Math majors take six semesters of classes and complete two marketable applied math co-ops. The four-year B.S. in Applied Mathematics in which majors take 8 semesters of classes and complete two marketable applied math co-ops. Graduates, in addition to continuing their education at the graduate level, may seek employment in a variety of fields including government, finance, risk-management and actuarial science, predictive modeling, data science, research, operations research, quality assurance, software engineering, statistics, biomedicine, and informatics.

Visit the Course Catalog for information about program requirements.

For an overview of the year-by-year experience in the Bachelor of Science in Applied Mathematics program, see "What You'll Learn" below.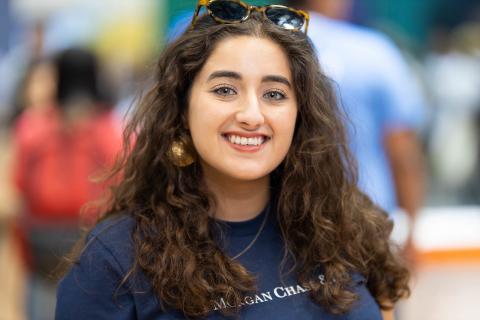 My experience in the Applied Math program at Wentworth equipped me with the skillset and network to undertake graduate school, become a senior technologist at a Fortune 500 company, and start a nonprofit called The WIT Project, supporting women of color break into tech. I am so grateful for my WIT family!
Shylee Ezroni
Applied Math alumna