Campus Labs & Studios
Our labs and studios are places of common inspiration for our students. The Wentworth culture of learning and problem-solving centers on our students' ability to collaborate, innovate and create with cutting-edge tools they need to further their education.
At a Glance
State-of-the-Art Labs
What you'll have access to across the campus
Own your space
Studio spaces to students
Labs and Studios
Our labs and studio spaces are places of common inspiration for our students. The Wentworth culture of learning and problem solving centers around our students' ability to collaborate, innovate, and create with cutting edge tools they need to further their education.
Architecture, Industrial and Interior Design Studios
Studios are working places where students spend a significant amount of time developing their design projects with professors and other students, creating a vibrant learning environment, a sense of community, long-term professional relationships and lasting friendships. The creation of a positive and respectful working and learning environment has been an integral part of Wentworth's educational model since the Institute's founding.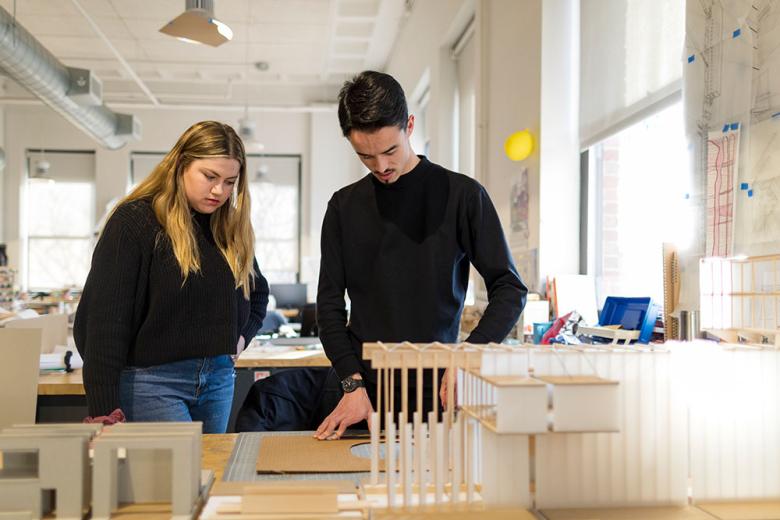 Biology Labs
There are a number of sub-disciplines found within the field of biology that explore biological forms, functions and behavior.  These labs are equipped with advanced equipment to introduce students to novel techniques used in molecular biology, cellular physiology and microbiology.
Biomedical Engineering Labs
Biomedical Engineering students apply the skills they learn in each of our three labs throughout their study. Several medical devices used in clinical diagnosis, therapy, research and development are housed in these labs to support the lab-based courses in the Biomedical Engineering program.  
Biomedical Instrumentation and Medical Devices Lab (BMIL) 

Devices include biomedical electrical safety analyzers, heart rate and blood pressure monitors, pulse oximeters, electronic stethoscopes, ECG monitors, telemetry and nurse call systems, External Pacemakers, Defibrillators, AED's, Neonatal and Transport Incubators, Electrolyte and Blood Gas Analyzers, Automated Blood Cell Counters and Patient Monitors as well as a collection of several special-purpose simulators.   

Bioelectronics & Biofluids Lab (BEFL) 

Students have access to several medical electronic sensors and signal processing units, Biological work tables, Centrifuges, microtome, cryostat, and Infusion Pumps.  Both BMIL and BEFL include general test and calibration equipment and provide access to commonly-used engineering software and specialized biomedical software. 

Biomedical Engineering Project Lab (BEPL)

BEPL is designed for final-year students to work on their senior interdisciplinary projects.
Civil Engineering Labs
Our Civil Engineering labs let students run tests and experiments in practical, collaborative settings. As a Wentworth Civil Engineering student, you'll work directly with materials like aggregate and concrete, examine soil samples and test wastewater. These lab spaces are essential to prepare our graduates to work in a real-world setting.
Computer Science Labs
Wentworth's specialized networking lab provides students with project-based, practical learning opportunities in network configuration, security and operations. 
Altschuler Computer Center

The Altschuler Computer Center has three major sections where our students apply the skills they learn in the classroom: 

The instructional space where our department's lectures and labs are held. This space was designed from the ground up to support our applied, project-based learning environment. The room's table arrangement allows students to work in groups of four to promote teamwork and collaboration. There are 20 Cisco routers and 20 Cisco switches available directly next to these table groupings for use in introductory networking courses. 
The student data center houses equipment used and managed by students. There are six racks that contain five 20 Dell servers, 10 Cisco routers, 10 Cisco switches, five Cisco Nexus switches, one EMC storage array and additional supporting equipment including UPS units and shared network infrastructure. Students use this equipment in multiple courses as you learn to manage and operate your own computing infrastructures up to industry standards.  
The faculty/department server room that contains equipment managed by the department staff. 
Construction Management Labs
Construction Management laboratories offer students the opportunity to apply theory to a variety of practical problems through the use of state-of-the-art surveying equipment, testing and analytical equipment, instrumentation and construction materials. In addition, laboratory facilities allow students to perform a variety of standard tests on soils, aggregates, and fresh and hardened concrete. Laboratory facilities also provide students with an opportunity to work in teams on projects and presentations for their senior capstone projects.
Electrical & Computer Engineering Labs
Our Electrical Engineering and Computer Engineering students build their skills and knowledge in lab spaces devoted to a diverse range of topics including electronics, robotics, nanotechnology, electromagnetics and telecommunications. You'll also have a dedicated area to test and build your prototype designs.
Mechanical Engineering Labs
Mechanical Engineering students have a host of lab spaces to model, analyze, design and realize physical systems that they'll create to solve real-world problems. Using computers and test equipment, you'll verify and develop principles of engineering in diverse areas such as statistics, thermodynamics, material science, data acquisition, structural analysis and machine design.
Physics Labs
These labs are flexible spaces used to teach Physics classes including conceptual, algebra, and calculus-based Physics I and II. A variety of equipment is used to explore Newtonian mechanics, thermal properties, and electricity and magnetism

Scientific Instrumentation Lab

The Scientific Instrumentation Lab allows students to work on long term projects and learn the fine details of taking experimental measurements.

Its equipment includes a 3d printer, x-ray diffractometer, and vibrating sample magnetometer. Students can measure the magnetic and electronic properties of materials to high levels of accuracy.