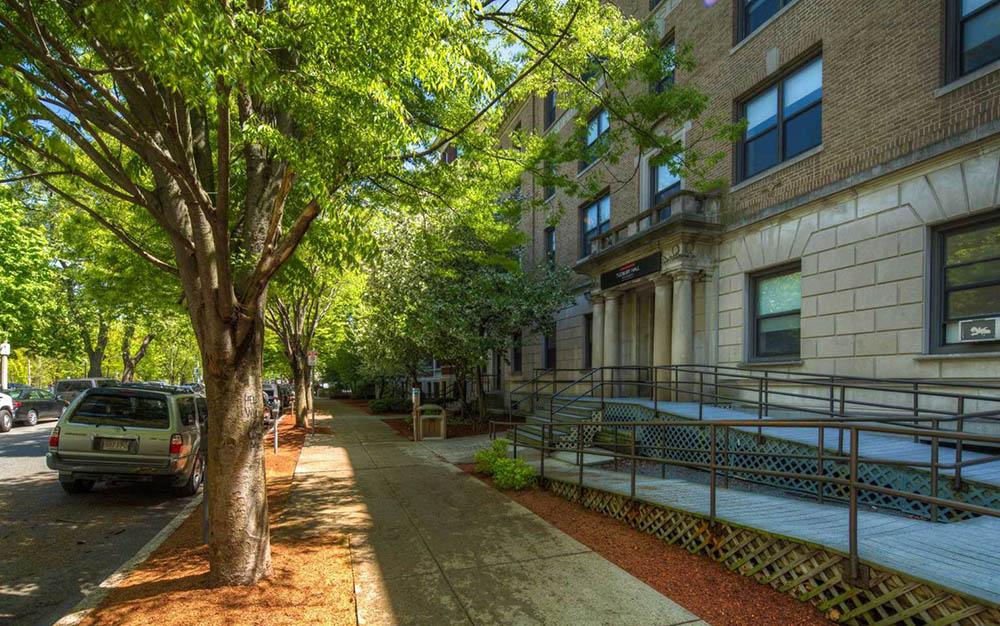 Suites for Students
Evans Way and Tudbury Hall houses first-year students and is comprised of suite-style living options with more opportunities for privacy and independent living. 
Suites: A typical suite consists of a living room, two bathrooms and several bedrooms. Living rooms are furnished with love seats, lounge chairs, and coffee and end tables. Bedrooms feature a bed, desk, desk chair, bureau and closet for each student. Wireless network connections and Xfinity on Campus television service is available for all residential students. Students can live in suites ranging from five to ten students, with bedroom options of singles, doubles, triples or quads.
Amenities: Game room, study room, auditorium, laundry facilities, and vending areas. Mail can be retrieved from the 555 Huntington Ave Mailroom.
Food: Students may bring a small (no larger than 4.0 cubic feet) refrigerator and/or microwave, however cooking is not permitted in the rooms/suites. Wentworth partners with Microfridge for rentals and room accessories. Meal plan dollars can be used in Dining Commons in Beatty Hall, Mass College of Art Cafeteria, Mass College of Pharmacy Coffee Shop, and Starbucks located at the Mass College of Art Cafeteria.
Staffing: Evans Way is staffed by one full-time Assistant Director/Community Director and 12 Student Resident Assistants. The residence has Federal Work Study positions available each semester. Qualifying students can work as a study room attendant, game room attendant, or office assistant. For more information, visit Student Employment and Work Study.
Curious about room sizes and occupancies? Check out a virtual tour on YouTube.