Your journey at Wentworth Institute of Technology begins here, and we're thrilled to be your companions as you navigate your exciting first year. Wentworth has a myriad of programs and events to welcome incoming students to our community. From workshops dedicated to academic and college success to opportunities for building social connections to programs focused on mental and physical wellbeing, our First Year Experience (FYE) programming is designed to ensure a smooth transition into university life. We hope you embrace this opportunity to forge meaningful connections with fellow Wentworth students and to discover all the ways you flourish personally, academically, and socially during your time here. 
Attend Events and Get Rewarded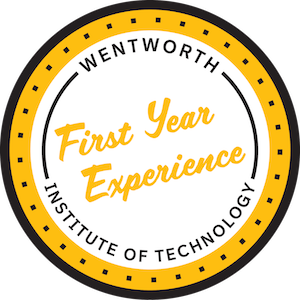 Wentworth's First Year Experience allows our incoming students to hit the ground running, meet their fellow classmates, learn valuable information, and rack up rewards while they do it. By attending designated First Year Experience events, you can build credit towards redemptions for Wentworth SWAG, apparel, gift cards, and an invitation to our exclusive end-of-semester celebration.
First Year Experience events are broken down into 4 categories, each with its own specific focus:
Academic Success
Social Connection
Mental & Physical Health
College Success
The more events you attend, the more you can redeem. Check out the chart below to learn more about rewards at each attendance level.
Students who attend enough events to get to Level 2, 3 or 4 will receive an invitation to our end-of-semester party, where we'll have a dessert bar and raffle prizes, including a Nintendo Switch, Amazon gift cards, and gift cards to the Wentworth bookstore.
Check out the full list of events on Leopard Spot and look for the First Year Experience logo to identify eligible events. We look forward to seeing you and welcoming you to your first year at Wentworth.
Rewards Chart
Level
Criteria
Rewards

Level 1

4 events total
1 event from each category

Level 2

6 events total
At least 1 from each category

$10 Dunkin gift card
WIT hat
Invitation to end-of-semester celebration

Level 3

8 events total
At least 1 from each category

$10 Dunkin gift card
WIT hat
Item from Swag Shop
Invitation to end-of-semester celebration AND 1 ticket for raffle prizes

Level 4

12 or more events
At least 2 from each category

$10 Dunkin gift card
WIT hat
Item from Swag Shop
$25 gift card to the Bookstore
Invitation to end-of-semester celebration AND 1 ticket for raffle prizes