President Thompson's Biography
Mark A. Thompson, Ph.D., became the fifth president of Wentworth Institute of Technology on June 1, 2019.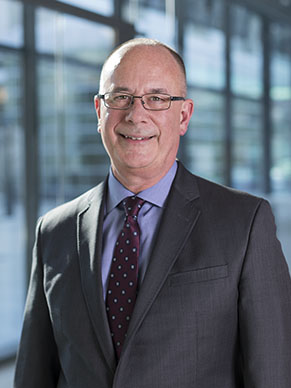 His career in higher education spans more than 25 years—from teaching and advising students at Marshall University and Morehouse College to serving in senior-administration roles at Quinnipiac University.
Thompson was at Quinnipiac for 21 years (beginning in 1998) before accepting the presidency at Wentworth. He served there as associate dean of the school of business and later as executive vice president and provost. Among other accomplishments at Quinnipiac, Thompson led the establishment of engineering and medical schools. He earned a reputation as a popular advocate for students and valued, progressive member of the university community.
Earlier in his career, Thompson directed the Center for Business and Economic Research and was an assistant professor of economics at Marshall University's Elizabeth McDowell Lewis College of Business. 
He has a bachelor's degree in economics-finance from Bentley University, an M.B.A. from Western New England University, and Ph.D. in economics from Georgia State University.   
His expertise includes urban and regional economics, and economic development. He has worked on regional economic initiatives with many private and public constituents and, as part of those efforts, completed more than 100 technical reports—ranging from economic impact assessments and strategic plans, to feasibility studies and business proposals. 
Thompson's academic research has focused on the consequences of residential housing segregation, issues related to labor market discrimination and assessing the impact of intellectual property rights on the economic growth rates of developing countries. His work appears in academic journals including Economic Development Quarterly, Journal of Economic Development, Journal of Enterprising Culture and Journal of Economics and Finance. 
He has also written a book chapter under a grant from the Russell Sage Foundation and made numerous conference presentations.           
Born in Providence, Thompson lived in Pawtucket and Barrington, R.I., as a child. His family moved to Eastham, Mass., when he was in the 5th grade.
He is married to Karyn Thompson, an early childhood educator with a master's degree as a reading specialist. She worked in public schools, had her own nursery school and taught a freshman seminar at Quinnipiac. The couple has two daughters: Elizabeth, a social worker in pediatrics at Massachusetts General Hospital, and Kathryn, a teacher's assistant at Kennedy Day School in Brighton, Mass., who in the fall of 2019 began working toward her master's degree in social work at Simmons University. 
Wentworth Institute of Technology, a recognized leader in STEM, design and management education, was founded in 1904 and is known for its co-operative education opportunities for students and focus on career and resume building through hands-on learning in the field. Located in Boston, Mass., the nationally ranked university offers bachelor's and master's degrees aligned with the needs and demands of the 21st-century workforce.