Project Management
In the
Part Time
Online and On Campus
Wentworth's Master of Science in Project Management will enhance your technical skills with the most up-to-date project management software and strategies. Our graduate students gain skills and experience to work on and lead global project teams.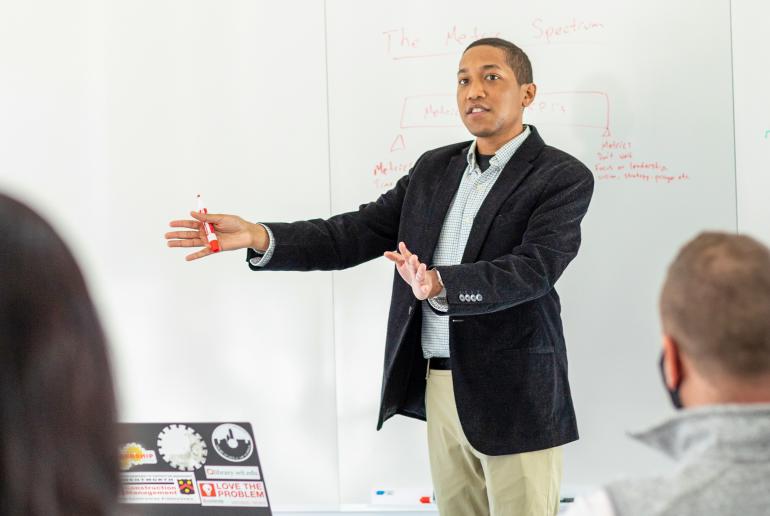 Project managers are on the forefront of change and innovation in today's project economy. Our Master of Science in Project Management will enhance your technical skills with the most up-to-date project management software and strategies. And, with our new, HyFlex format, you can earn your degree, your way.
Learn by Doing

Hands-on, experiential learning opportunities will give you the skills and knowledge you need to deliver a project on time, on budget and within scope. Complete strategic coursework in agile techniques, managing trouble projects, and managing portfolios and programs.

Learn the fundamental principles of project management including communication, decision making, execution, strategic development, team management, business acumen, technology and critical thinking. And develop the essential leadership, organizational and problem-solving skills in demand by over 65% of today's top employers. Top off your experience with a capstone project, integrating what you've learned and the skills you've developed to solve real-world challenges.

HyFlex 

HyFlex learning combines the convenience of online instruction with the benefits of face-to-face interaction. Complete your classes online or drop into an in-person course section--whenever you like and as many times as you like--for a truly flexible, student-centered experience. Students enrolled in a hybrid course section can also complete their work online if they are unable to attend an in-person class meeting. Both modalities will adjust based on the changing needs of our students. All courses are 7-weeks long to fit your busy schedule.

Full-time students can finish in a year and part-time can complete in 20 months.

Who Should Apply

Wentworth students enrolled in any undergraduate major may apply to the Project Management Master of Science. If you are a senior, enrolled in 17 or fewer credits during the summer semester, you can enroll in one of the Project Management Master of Science courses at no additional charge.

For all other applicants, prior project management experience is required. Students who do not have any prior project management experience or coursework, must take a self-paced PMI course prior to enrolling in the fall.

Project Management in the World

According to the Project Management Institute (PMI), demand project managers is growing faster than demand for workers in other occupations. Through 2027, the project-management labor force is expected to grow by over 33 percent, creating 22 million new jobs, and over 87 million professionals employed as project managers. As more and more organizations look to hire project managers, a new set of "power" skills is emerging.

Wentworth Institute of Technology is accredited by the New England Commission of Higher Education (formerly the Commission on Institutions of Higher Education of the New England Association of Schools and Colleges, Inc.).

In the Master of Science in Project Management program, students will gain valuable, hands-on experience in initiating, planning, executing, controlling, and closing a project on time and on budget; using the latest project management software and technology. Our unique mix of courses, including Troubled Projects, ERP, and Virtual Project Management, will give students a competitive advantage in today's rapidly changing project management environment.

Visit the Course Catalog for information about program requirements.