Military-Connected Services
Wentworth Honors the Military-Connected Community: Actively Serving, Veterans, ROTC, and Family Members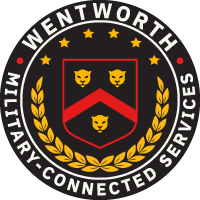 Military-Connected Services is committed to supporting you throughout your Wentworth experience.
Michael S. Siegel, Director, Military-Connected Services
Email: military@wit.edu
Schedule a Meeting: https://calendly.com/michaelsiegel
Military-Connected Scholarship Opportunities
Wentworth Military Society (WMS)
WMS is a student organization that provides peer-support for Military-Connected students while fostering pride, tradition, integrity, leadership and respect. For meeting times and information, contact military@wit.edu.
Dedicated Lounge for Military-Connected Students
The Lounge for Military-Connected students opened in August of 2019. Military-Connected students, can use their Wentworth student ID to access to the lounge. The lounge has a small kitchenette, a TV, storage space, as well as couches, chairs and tables for study and meeting spaces.