Umoja Cultural Graduation Ceremony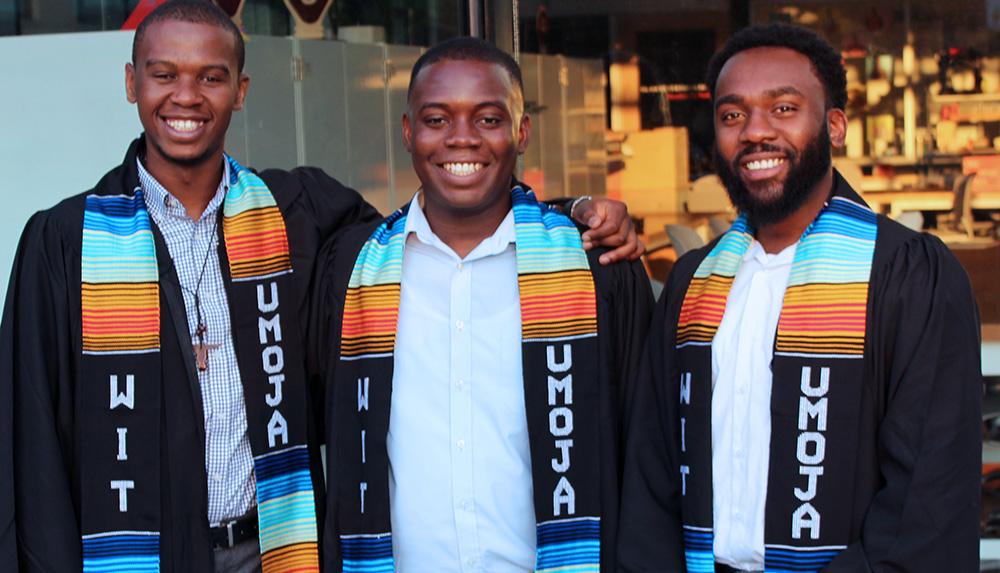 Umoja Cultural Graduation Ceremony acknowledges and embraces the rich culture of graduating students of color while celebrating their achievements and contributions to the Wentworth community.
Graduating students who chose to participate in UMOJA receive a cultural stole during the ceremony as a symbol of their achievements at Wentworth. What makes this part unique is that each student is given their stole on stage by someone of significance in their lives (parent, partner, friend, teacher, mentor, etc.). These stoles can be worn during Wentworth's main commencement ceremony. After the UMOJA ceremony, guests are invited to a reception in honor of our graduates.
Families, friends and guests are invited to celebrate and participate in this ceremony. Please note that this type of ceremony may be called ALANA celebration, Kente/Stole ceremony, or Multicultural Graduation at other institutions.
Why UMOJA?
UMOJA is Swahili for unity. Swahili is a Bantu language and first language of the Swahili people from East Africa. Unity is both a principle and practice of togetherness in all things good and of mutual benefit. Through this ceremony, we want to show graduates the impact and strength that unity can bring before they begin the next stage of their lives.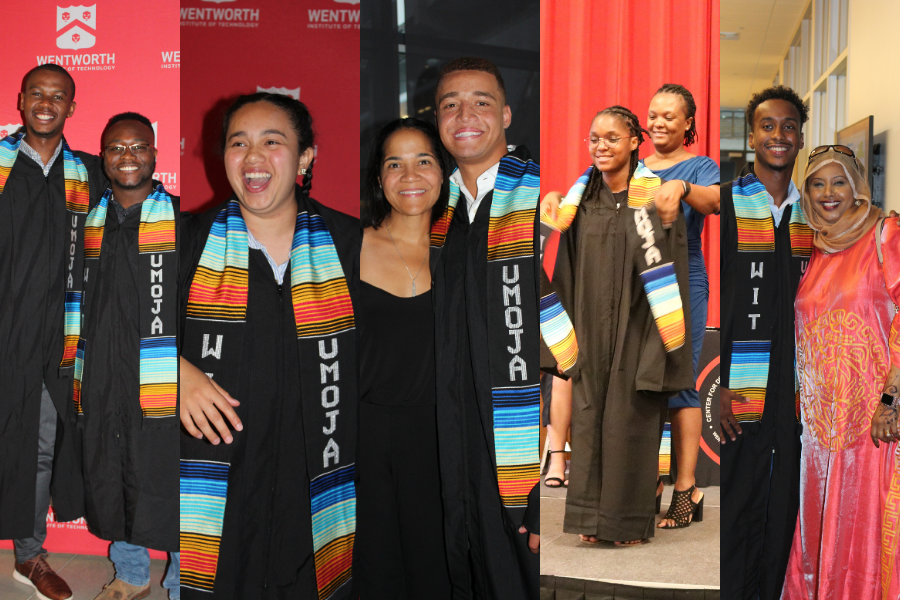 Umoja For Graduates
Eligibility
This ceremony is intended for students whose graduation term is:
Spring 2019
Summer 2019
Fall 2019
If you will not complete your graduation requirements by the end of the summer term, but would still like to participate in the ceremony, you may do so if you will be completing your degree by the end of 2019.
The ceremony is open to all students of color. If you have a question about eligibility, please reach out to Diversity@wit.edu.
Please note that this is an additional celebratory event during the commencement weekend, and it is not the official commencement ceremony for the institute.
Ceremony Information
Graduates who plan to participate in this ceremony must arrive at Watson Auditorium on Friday, August 16th, 2019, no later than 5 PM. At arrival, graduates must check-in at the registration table. They will be asked to provide other information including the phonetic pronunciation of their first and last name. We are asking all graduates to wear their academic regalia (cap and gown) for this ceremony. Students without academic regalia should wear all black if possible We highly discouraged graduates to wear jeans, tights, shorts, or any revealing article of clothing.
Robing Ceremony & Someone of Significance
One of the most impactful aspects of this ceremony is the robing of graduates by someone of their choice. Graduates will have the opportunity to identify who their person will be. This person can be a mentor, a family member, a friend, a significant other, a Wentworth faculty or staff, or someone of deep meaning for them. When registering for the ceremony, graduates will provide the name of who their person will be.
The Stole
Graduates will receive a special stole for the ceremony, which can be used for commencement the following day. The patterns pay homage to African, Asian, Arabic, and Latinx/Hispanic cultures. These stoles will be provided with no cost to graduates. Please note that only those who chose to participate in the Umoja Cultural Graduation Ceremony will receive these stoles. Graduates will not receive their stole before the ceremony.
Umoja For Family, Friends & Guests
As always, we look forward to welcoming families, friends and guests to help celebrate the diversity and accomplishments of our graduates. Please review the following information to prepare for our Umoja Cultural Graduation Ceremony.
Graduates will receive up to 6 tickets for the ceremony. Depending on the number of graduates, this number can change. Information will be sent out if more tickets become available.
Parking will be available in the West Lot. The ceremony will begin promptly at 6:00 PM but doors will open at 5:30 PM. The ceremony is expected to last no more than one hour. We ask that you stay through the length of the ceremony and join us for a reception afterward.
Family members, friends, others may be asked to participate in Umoja's robing ceremony. During this part of the ceremony, graduates will walk across the stage and receive their stole from the person they assigned as "someone of significance." It is the responsibility of each of the graduates to let their person know they will be partaking in the robing ceremony. Those chosen may be asked to sit separately from the rest of their party.