New Tradition Created with Successful Alumni Day
Under a brilliant May sun, a trio of young alumni tossed around a bean bag on the Quad, relaxing and sharing stories in proximity to a futuristic glass structure, new since their time as students. 
"I had never seen this building before," said Christopher Montero '18 of the Center for Engineering, Innovation and Sciences (CEIS). "It's amazing, and it's part of the recent changes that I wanted to find on campus." 
Montero and his friends, Shirshak Sharma '18 and Andy Tenhagan '18, had returned to attend Wentworth Institute of Technology's inaugural Alumni Day, which featured multiple tours and hands-on demonstrations, academic information sessions, a cocktail reception, and a special luncheon that brought back student-athletes for the Athletic Hall of Fame ceremony.  
The group on the Quad had come from the Breakfast with the Deans event and several info. sessions before heading outside for lawn games. Each was eager to see firsthand how their alma mater had progressed, as well as reconnect with friends.  
"It's been fun to see the changes, and I really wanted to hear more about future plans," said Sharma. 
Tenhagan had not physically been back to campus in a while, but his work has kept him close to students. As a software development engineer at Amazon Robotics, he spends time mentoring co-ops and interns.  
"I want to give my voice in shaping the next generation of kids coming through Wentworth, especially being in industry now and seeing new grads. It makes me appreciative of what Wentworth was able to teach me," he said.  
Image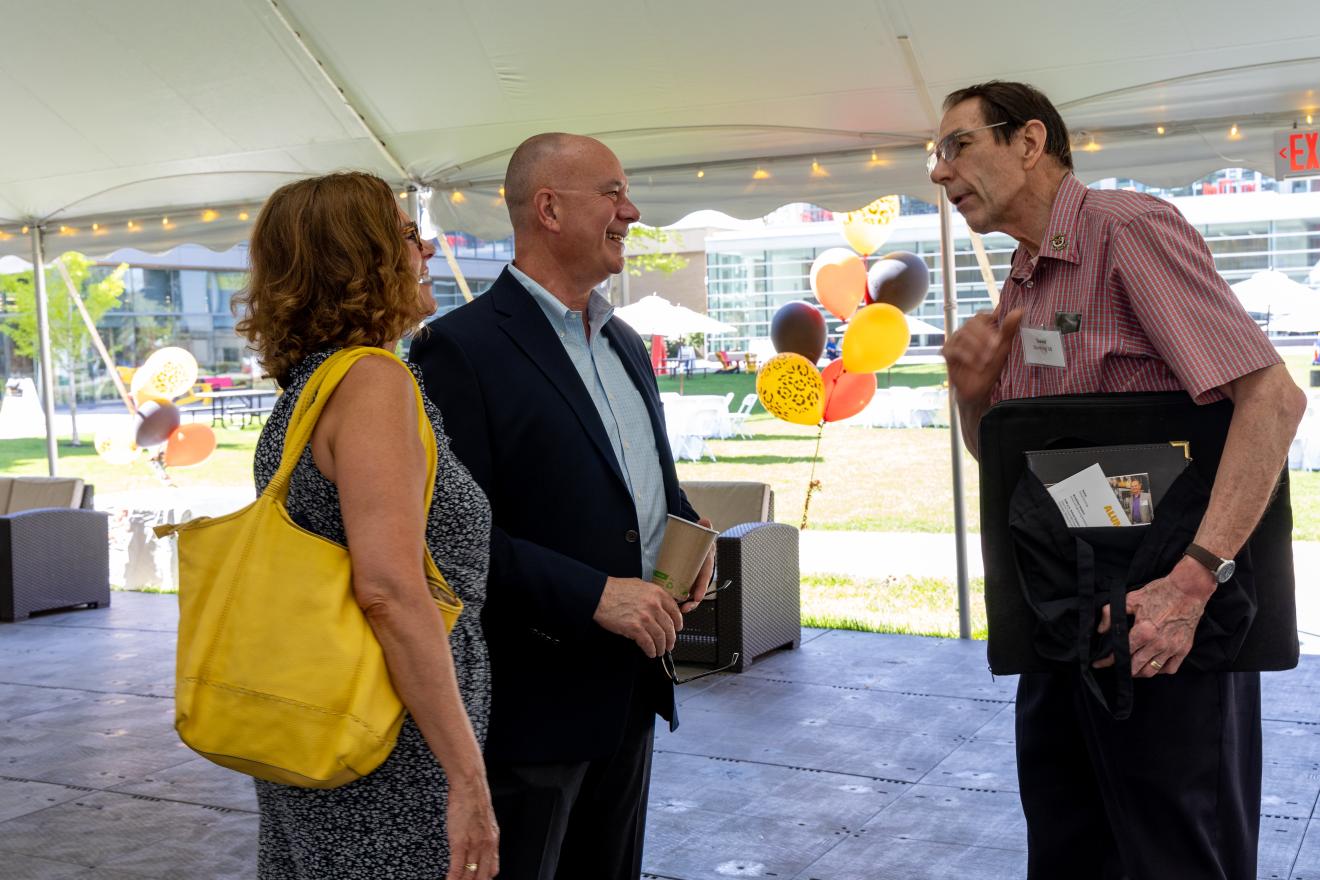 Image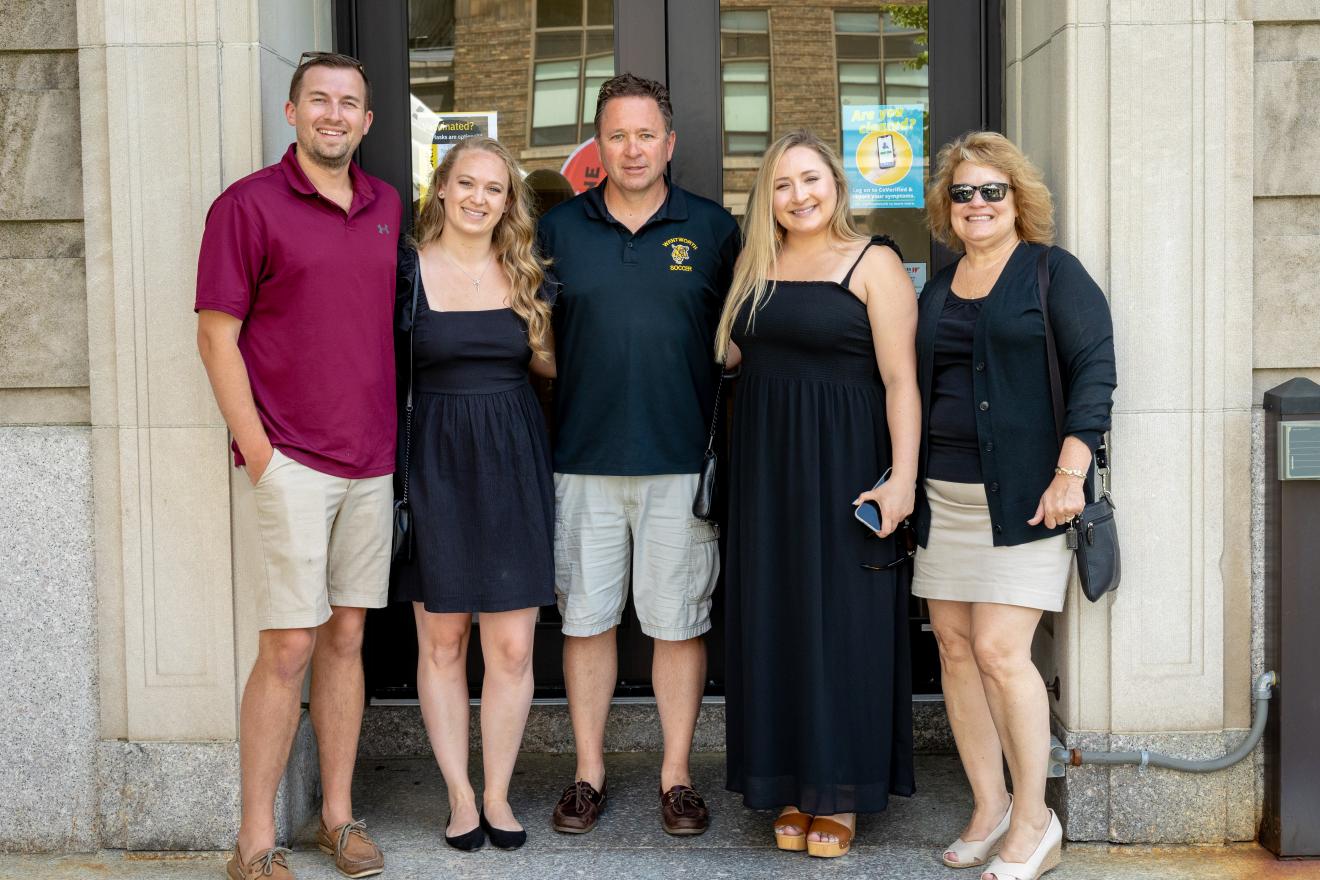 Other Alumni Day attendees—like John Watson '11 and Tchad Cort '04—were drawn in by the unprecedented access to faculty and program administrators who assembled to share more about the university's graduate degrees and other academic offerings.  
"When I was going, there was no grad program, so I was really interested in hearing more about that," said Cort. "And I'm interested in seeing any professors I had who are still here, and meeting new ones." 
Watson was also keenly interested in the roboticized pallet demonstration given by alum and University Adviser Michael Santora '05. 
"I have a five-year history with warehouse logistics and I was very interested in that project and the work that students are doing on it," Watson said.  
A jovial Cheryl Aaron, director of Athletics, helped lead the inductions of Wentworth's newest Athletic Hall of Fame class. Six student-athletes returned as part of a packed luncheon held in Watson Auditorium. 
Attendees were greeted by Chair of the Board of Trustees Greg Janey '82, '04, Hon. '17 at the top of the luncheon, while Vice President of Institutional Advancement and External Relations Crate Herbert shared what drew her to Wentworth a year ago and the passion for the university she has seen among alumni.  
"Wentworth is a terrific institution, but we are only as strong as our alumni community," said Herbert. "The Wentworth network runs deep, and we are here to help strengthen that network."
President Mark Thompson provided updates on the state of Wentworth, opining on the numerous renovations that have been made to campus and the creation of world-class programs. 
"Some of you may have played tennis right over there," he said, gesturing to CEIS, "or remember the old smokestack that once sat atop Kingman Hall. We now have a beautiful new building dedicated to engineering, innovation, and the sciences, a living laboratory with state-of-the-art space for Accelerate and new degree programs like Cybersecurity and Biomedical Engineering." 
He additionally shared what's to come: A revitalized, state-of-the-art Sweeney Field at 600 Parker Street and a hands-on center for the life sciences at 500 Huntington Avenue. 
"It is truly an exciting time for Wentworth," he said. 
Members of the Class of 1972 were in the audience to commemorate their 50th anniversary, a fact mentioned by Thompson.  
Image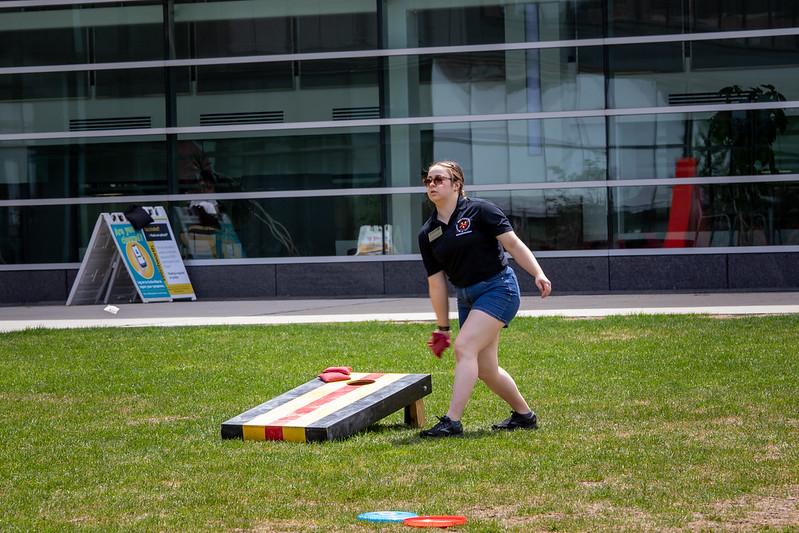 Image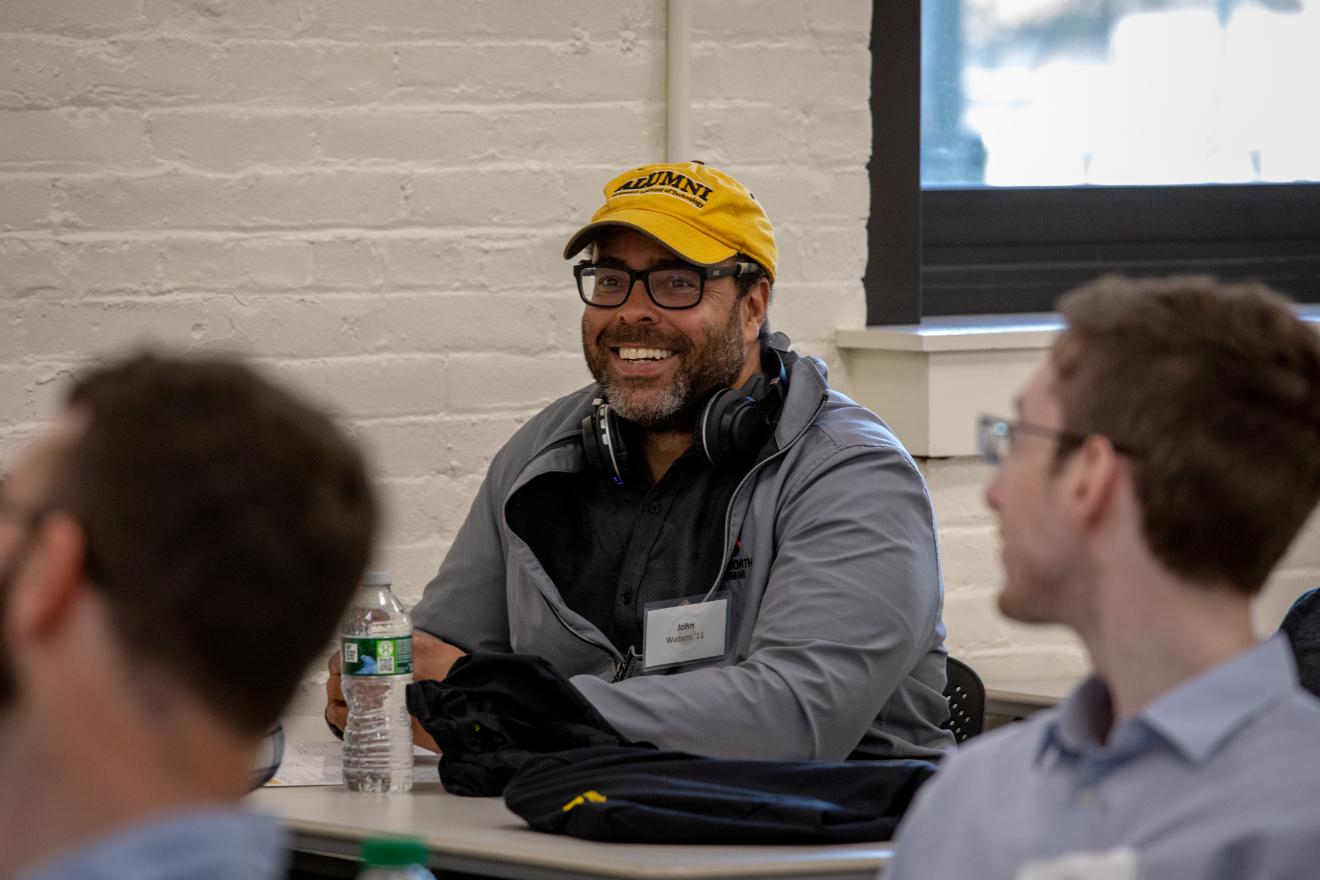 Afternoon programming included tours at the Douglas D. Schumann Library & Learning Commons, the Ira Allen forum and laboratories, and Accelerate, as well as sessions related to Co-ops + Careers and other areas. For participants, the sessions offered a chance to learn more about getting involved—as a future graduate student, a employee of co-ops, campus mentor, donor, or corporate partner.  
"Programs like Accelerate are great and [so are] all of the new opportunities students have to really follow their passion," said past Wentworth Alumni Association President Carlie LaPre '11. "Students really have a chance to dig into their learning, experience interdisciplinary activities and programs, and transform themselves." 
Aaron and Senior Associate Athletic Director/Director of Athletic Communications Bill Gorman held a Q&A session on Wentworth Athletics, a program attended by Dontell Lofton'15. 
"This has been awesome," Lofton said of Alumni Day and its offerings. As a member of Wentworth's first Computer Information Systems graduating class, Lofton plans to return to campus more often now that his younger brother is enrolled in the Cybersecurity program. 
"The people [at Wentworth] really stand out. Everyone's so happy to be involved and working with each other, everyone's motivated and ready to get their career started," he said. "If you're looking for a place that will give you attention as a smaller school, and also find you a job immediately after graduation and [give you] the skills you need to be successful at that job, this is the place to be." 
Lynne Berard '89 and her husband, Michael, have found some of that warmth when attending Alumni Relations events in the past.  
"I've attended events in Cape Cod and the Women at Wentworth event, and I really enjoy them and the people I've met," said Lynne. 
Added Michael, "It's been a beautiful day with really nice people." 
The day was organized by members of Wentworth's Institutional Advancement and External Relations team including Angela Johnson, senior executive director of Development and Alumni Relations, Katie DePrimo, senior director of Annual Giving and Alumni Relations, and Linda Werman, executive director of University Events. 
Alumni Day is planned for a return on May 23, 2023. 
"I'm proud of the progress that Wentworth has made. The school has been doing amazingly from what I can see," said Montero. "I'm proud to be an alum." 
Find more photos below or at Flickr.