Campus to Host Interior Design Educator's Council Conference
Wentworth Institute of Technology's School of Architecture and Design will host the venerable Interior Design Educators Council (IDEC) 2023 East Regional Conference, and it's not too late to register!  
Carrying the theme "Making Interiors," this year's event will take place on Wentworth's Boston campus on Thursday, October 4 and Friday, October 5.  
The conference will pose the question of what it means to make interiors today, examining the relationship between materials and fabrication, and how our understanding of those concepts has been shaped by technology to design and create spaces that are collaborative, data-driven, and inclusive. 
Andrew Witt, associate professor in Practice of Architecture and director of the Master in Design Engineering program at Harvard University Graduate School of Design, will serve as keynote speaker for the conference. He will discuss the topic of "Design, Data, and Different Futures."  
Image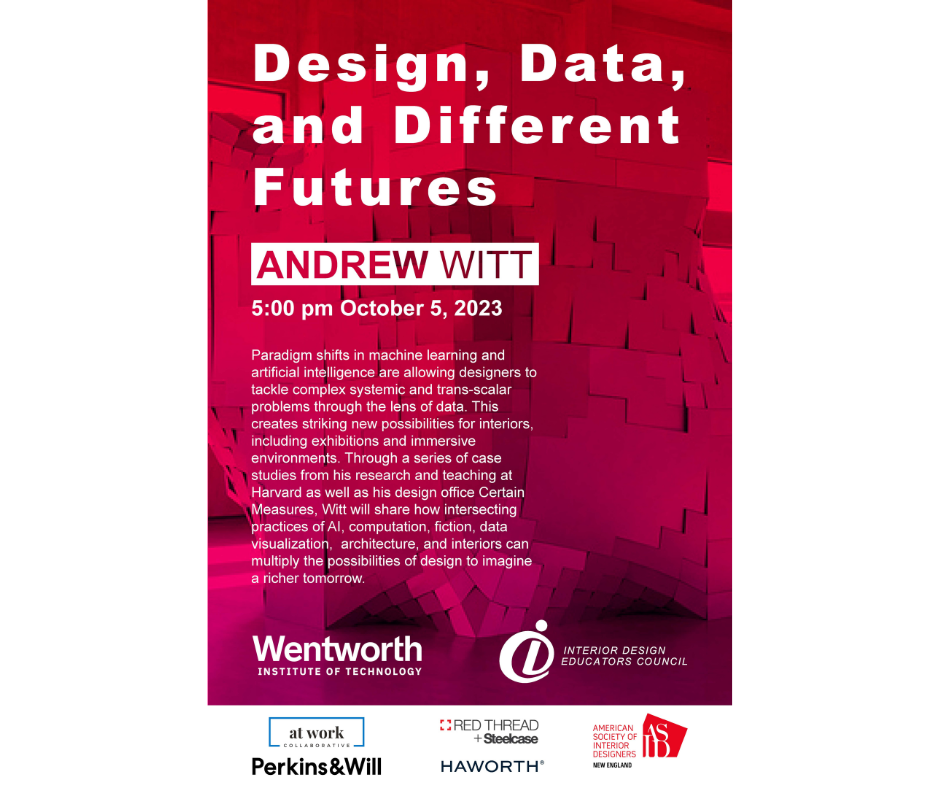 Paradigm shifts in machine learning and artificial intelligence are allowing designers to tackle complex systemic and trans-scalar problems through the lens of data. This creates striking new possibilities for interiors, including exhibitions and immersive environments. Through a series of case studies from his research and teaching at Harvard as well as his design office Certain Measures, Witt will share how intersecting practices of AI, computation, fiction, data visualization, architecture, and interiors can multiply the possibilities of design to imagine a richer tomorrow. 
Other offerings throughout the conference will include sessions on creative scholarship, making and new technologies, making and pedagogy, and health and energy, as well as a panel discussion around reconsidering the role of the period room, a poster session, and tours of Wentworth's Accelerate space.