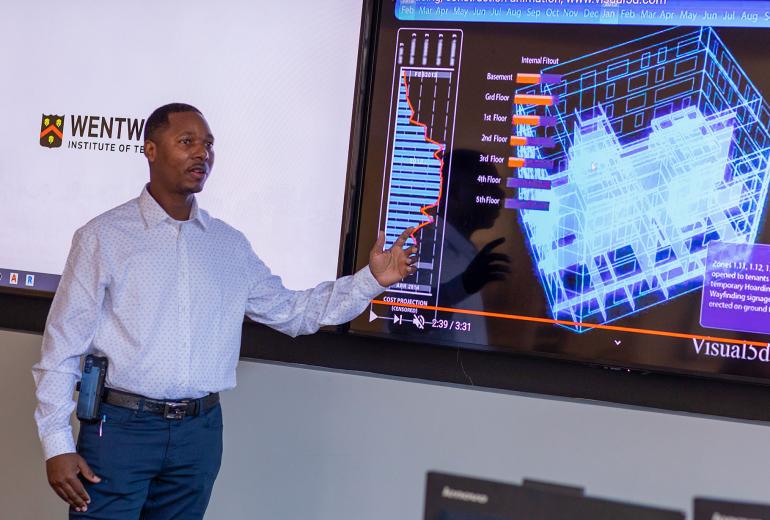 Part Time / Online and On Campus
This degree program can be completed part-time or full-time.
The only Construction Management Master of Science program in New England to be accredited by the American Council for Construction Education (ACCE), Wentworth's award-winning program will prepare you for an exciting career in construction management. And, with our new, HyFlex format, you can earn your degree, your way.
Learn by Doing
Hands-on, experiential learning opportunities will give you the skills and knowledge you need to oversee the planning, design and construction of a building from pre-design to closeout. Learn the fundamentals of project management, business, construction and real estate. And develop essential communication, organizational and problem-solving skills in demand by over 65% of employers. Cap your experience with the opportunity to conduct original research and an optional master's thesis to help develop practical solutions to real-world challenges.
HyFlex
Earn your degree, "your way"! HyFlex learning combines the convenience of online instruction with the benefits of face-to-face interaction. Complete your classes online or drop into an in-person course section--whenever you like and as many times as you like--for a truly flexible, student-centered experience. Students enrolled in a hybrid course section can also complete their work online if they are unable to attend an in-person class meeting. Both modalities will adjust based on the changing needs of our students. All courses are 15-weeks long to fit your busy schedule.
Award-Winning Program
One of only 5 ACCE-accredited programs in the country--and the only program to receive that distinction in New England—Wentworth's Master of Science in Construction Management is a recognized leader in its class. In 2020, our program was rated "Best Construction Management Program" for working adults by College Factual, based on a high-quality education and "superior outcomes" for our students. 
2019 Construction Management Master of Science Graduates:
100% employed full-time
$65K Median Annual Salary
Top Employers:
Bowdoin Construction
J.C. Higgins
Suffolk Construction
Turner Construction Company
Aimco
Accreditation
The Master of Science in Construction Management (MSCM) program at Wentworth Institute of Technology is accredited by the American Council for Construction Education (ACCE).
The goal of ACCE is to promote and improve construction education in colleges and universities. By working together through ACCE, people representative of the total construction community and the public at large, construction educators and constructors, establish and maintain standards and criteria for accreditation, provide guidance to those programs seeking to achieve accredited status, and carry out the accreditation process. For more information visit: ACCE
ACCE accreditation serves the interests of:
Students: by helping them identify institutions and programs that offer quality education in construction education.
The construction Industry: by enabling employers to identify persons who have the potential for making lasting contributions to the construction industry and their profession.
Owners / Users of Constructed Facilities and the Public at Large: by raising the professional caliber of constructors and thus the quality of the construction for which they assume responsibility.
The development of professional skills and knowledge is a central requirement of an ACCE accredited master's degree program. ACCE requires that all graduates accredited master's degree programs be able to demonstrate mastery of the following Student Learning Outcomes:
Create effective and professional written communications,
Apply critical thinking,
Apply problem solving techniques,
Apply decision making techniques,
Apply research methods,
Apply advanced communication technology,
Apply professional ethics,
Apply advanced construction management practices,
Understand risk management, and
Understand the principles of leadership in business.
MSCM Program Mission
The Master of Science in Construction Management (MSCM) program at Wentworth Institute of Technology is a graduate program of study for construction professionals. The program is designed to educate students in foundational post graduate management principles combined with relevant construction education and experience in topics that are specific to preparing and advancing professional skills in administrative and executive leadership positions in design firms, construction companies and related disciplines. Both thesis and non-thesis options are available which allow for a variety of employment or educational opportunities including but not limited to working for general contractors, real-estate developers, sub-contractors, construction management and architectural/engineering firms, as well as advanced education and teaching options.
Wentworth MSCM Program Goals
To carry out the mission of the Master of Science in Construction Management program, the following program goals have been developed in order to prepare students academically for personal and professional success in the built environment. The attainment of goals is evaluated through the program's outcome assessment program:
Present opportunities to develop metacognitive and life-long learning skills for students seeking increasingly complex management responsibilities, new leadership roles and overall career advancement
Expose students to subject matter and industry experts and the latest technological and managerial/leadership advancements and their effects on the Construction Industry.
Prepare and develop students from related disciplines to advance into the field of Construction Management.
For more information please visit the Construction Management Accreditation Information page.