IBEW Associate Degree in Engineering Technology
In the
Presented in partnership with the Boston Local 103, International Brotherhood of Electrical Workers (IBEW), and the Joint Apprentice and Training Committee of Greater Boston (JATC), the Wentworth Institute of Technology (WIT) Associate of Applied Science in Engineering Technology is designed specifically for apprentices of the five-year Electrical Construction and Telecommunications Program.
Apply Today!
Earn your degree alongside members of the IBEW Local 103. Complete your application by July 7 to join our Fall 2023 cohort.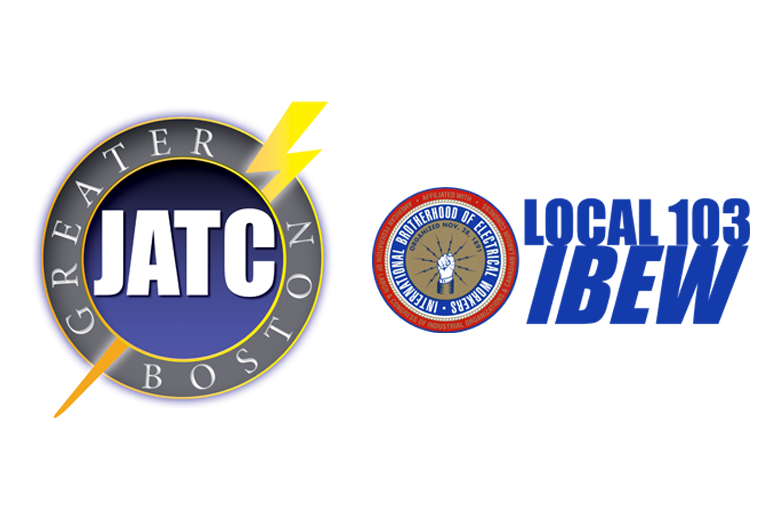 Combine practical hands-on learning with engineering fundamentals to solve real-world challenges in a variety of technical fields.


The Wentworth Institute of Technology Associate of Applied Science in Engineering Technology combines 27 credits earned through your IBEW Electrical Construction or Telecommunications Apprenticeship training with 33 credits of academic coursework to prepare you for advancement in technical fields.

You'll complete your degree alongside a cohort of IBEW Local 103 peers in a part-time, hybrid format designed to accommodate your busy schedule. 

You will learn

to apply knowledge, techniques, skills, and modern tools of mathematics, science, engineering, and technology to solve well-defined engineering problems appropriate to the discipline.

to design solutions for well-defined technical problems and assist with the engineering design of systems, components, or processes appropriate to the discipline.

to apply written, oral, and graphical communication in well-defined technical and non-technical environments and identify and use appropriate technical literature.

to conduct standard tests, measurements, and experiments and to analyze and interpret the results.

to function effectively as a member of a technical team.

Format

Hybrid | Online & In-Person

Classes will be delivered in various modalities, including online courses for general requirements and in-person courses for lab-based requirements. Students will participate in instructor-led lectures, classroom exercises and discussions, plus hands-on practices/assignments, delivered in-person or via Zoom and Brightspace, WIT's learning management system.

Time Commitment

2 Evenings Per Week | 5 Fall & Spring Semesters | 2.5 Years

Live online or in-person classes will be meet one to two evenings per week with additional coursework assigned to be completed outside of the classroom. Courses are typically 15-weeks long and are offered in the Fall and Spring semesters. 

Course Schedule

This program is delivered to the IBEW Local 103 in a cohort model. Students commit to completing courses in the sequence below with their cohort at the time that they are offered, as there is no guarantee when a missed course will be available again. Schedules and required courses are subject to change.

Semester One, Fall 2023

MATH1005: COLLEGE MATH A 
ENGL1100: ENGLISH I

 

Semester Two, Spring 2024

MATH1035: COLLEGE MATH B 
ENGL2200: ENGLISH II

 

Semester Three, Fall 2024   

MATH1065: COLLEGE MATH C 
ELECXXX: CIRCUITS THERORY & ELECTRONIC DEVICES

 

Semester Four, Spring 2024

ELEC2499: LOGIC CIRCUITS
PHYS1000: COLLEGE PHYSICS I

 

Semester Five, Fall 2025 

ELEC3450: MICROCONTROLLERS & EMBEDDED COMMUNICATION

Eligibility


Students must in at least year two of the Five-Year IBEW Local 103 (JATC) Apprenticeship Program. The Program must be completed prior to receiving the 27 required technical elective credits that are required to graduate. Certificate of Completion Date will be submitted on your behalf by the Greater Boston JATC. 

Application Requirements

Online Application
Current Resume
Statement of Purpose (250 words)   
Official High School, GED, or College Transcripts*
Certificate of Completion Date of Apprenticeship*
Online Math Placement Test (Optional)

Start Your Application

Step 1: Create an Application Account at ceadmissions.wit.edu/apply/

Step 2: After creating and verifying your account, select "Start New Application"

Step 3: Select "2023", then "Create Application" 

Step 4:  In the new window, select '2023 Undergraduate Application (Bachelor/Associate/Certificate) and click "Create Application" the "Open Application"

Step 5: You may begin your application, upload your resume, and save your work as you go. When complete, sign and hit "submit". 

Step 6: Contact your high school and/or colleges to request your transcripts, ASAP. Please note that transcripts are considered official only if sent directly to Wentworth from your school. Wentworth will obtain your Certificate of Completion Date of Apprenticeship on your behalf directly from the JATC. 

All materials must be received by July 07, 2023. 

After Submission

Once you submit your application, watch your email for a confirmation from Wentworth. You will be able to check your admissions portal throughout the process to confirm we have everything we need, your decision letter, and more!

For questions about your application, please contact us at workforce@wit.edu.

 

Tuition 

IBEW Local 103 Members receive 40% off prevailing tuition rates for the AENT. Fall 2023 rates are $1265 per credit; discount reduces tuition to $759 per credit*

Funding Your Education

You can learn more about services and resources to fund and pay for your education at Wentworth's Student Accounts and Financial Aid Office. Students who are enrolled in at least 6 credits per semester may qualify for financial aid. To be assessed for financial aid eligibility please complete the Free Application for Federal Student Aid (FAFSA) form. 

*Rates subject to annual change.

Job Market Trends

Access real-time data on the demand, salary, and top employers  for "Electrical and Electronic Engineering Technologists and Technicians," along with other career paths via Wentworth Coops and Careers' Job Market Trends.


 
Frequently Asked Questions
Why Wentworth
Wentworth Institute of Technology, the university of opportunity, provides our learners with access to educational programs responsive to evolving market needs. Wentworth prepares graduates who are future-focused and career-ready.