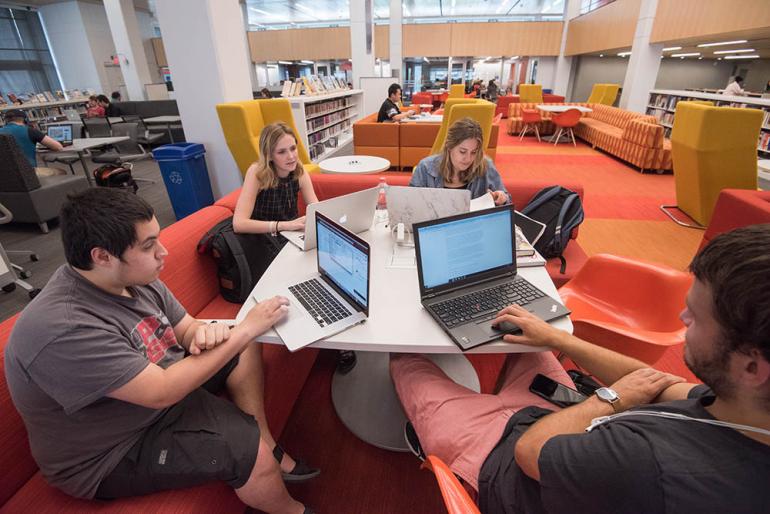 Full Time / On Campus
Pioneer the impact that computer science has on the world with Wentworth's Computer Science & Society degree. Lead the way on how we employ computing to benefit humankind and avoid the mistakes of the past. 
The Intersection of Computing and Humanities
Wentworth's Computer Science & Society degree provides students with multiple, structured opportunities to apply skills learned across a computer science curriculum to real-life problems. They will acquire technical and theoretical knowledge from Computer Science, Humanities and Social Sciences and apply it to recognized social concerns, such as climate change and social inequality.
Freedom & Flexibility
As a Computer Science & Society student, you can choose from a broad range of classes throughout your program. Unlike a traditional major, Computer Science & Society is built around clusters of courses in both Computer Science and Humanities and Social Sciences that allow you to explore various fields. Choose classes that align with your personal goals and pursue a capstone project that aligns with your interests and career plans.
A Meaningful Return on Investment
Our Computer Science & Society students develop marketable skills that are currently in demand. The structure of the program ensures that graduates will attain mastery of both vital skills in Computer Science and broader theoretical frameworks from the Humanities and Social Sciences. They will deepen and strengthen their knowledge of Computer Science by applying it to complex, real-world problems  This combination of skills give you a host of options as you enter the job market.