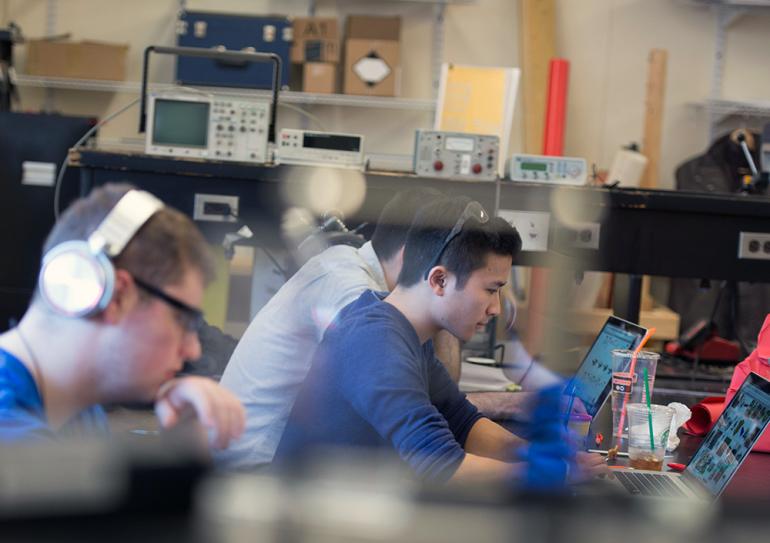 Full Time / On Campus
Mission of the Program
The Bachelor of Science in Engineering (BSEN) degree program is an innovative curriculum that provides students the flexibility to integrate an engineering course of study with electives of their choice to broaden their education for their professional and personal goals. Students in the program will customize their education, both their specialized area of engineering study and their personal directed studies, with a full-time faculty mentor. This program allows students to tailor an engineering curriculum with elective courses to expand their education beyond a single area of study. Students may plan to Study Abroad for one semester, ideally during the Junior year.
Ranked Best Engineering College
Wentworth is ranked #32 among the best engineering colleges by U.S. News & World Report based on its reputation and accreditation. 
The Engineering Curriculum Includes
a set of core engineering courses.
a set of mathematics and science courses that support the engineering discipline.
a set of general education courses that provide the foundation to understand the role and responsibility of an engineer in society and in a global environment.
a set of elective courses that provide a pathway for a student's future goals, and
a set of interdisciplinary design courses that allow students to collaborate with one another on a variety of projects.
Program Educational Objectives
The educational objectives of this program, which describe the expectations of our graduates a few years after graduation, are as follows:
To pursue a life of curiosity and passion to explore the diverse applications of engineering
To apply Engineering fundamentals with confidence and humility to develop innovative and effective solutions in a professional and ethical manner
To pursue professional development to meet and adapt to emerging and evolving engineering challenges
Student Outcomes
Students should demonstrate these abilities upon graduation:
An ability to identify, formulate, and solve complex engineering problems by applying principles of engineering, science, and mathematics.
An ability to apply engineering design to produce solutions that meet specified needs with consideration of public health, safety, and welfare, as well as global, cultural, social, environmental, and economic factors.
An ability to communicate effectively with a range of audiences.
An ability to recognize ethical and professional responsibilities in engineering situations and make informed judgments, which must consider the impact of engineering solutions in global, economic, environmental, and societal contexts.
An ability to function effectively on a team whose members together provide leadership, create a collaborative and inclusive environment, establish goals, plan tasks, and meet objectives.
An ability to develop and conduct appropriate experimentation, analyze and interpret data, and use engineering judgment to draw conclusions.
High-Value Degree
One of the nation's best engineering colleges
Wentworth continues to climb in U.S. News & World Report for Best Engineering Colleges (Doctorate Not Offered).
Career Preparation in Northeast
Ranked by Wall Street Journal for Career Preparation. 
High Return on Investment
Top Ranking for ROI by
Payscale.com
State-of-the-Art Labs
What you'll have access to across the campus
Accreditation
The Wentworth Bachelor of Science in Engineering is accredited by the Engineering Accreditation Commission of ABET. 
For program objectives, outcomes and enrollment and degree data, please visit the Engineering Accreditation Information page.