Wentworth Ranks #1 Regionally in New York Times Ranking Tool
Wentworth Institute of Technology earned the top spot using the New York Times' new college rankings tool when prioritizing earnings, economic mobility, and economic diversity among colleges in Massachusetts. Wentworth stays #1 whether or not you filter for low sticker price, positioning it well as an option for value and return on investment among the top-tier schools in the state.  
Image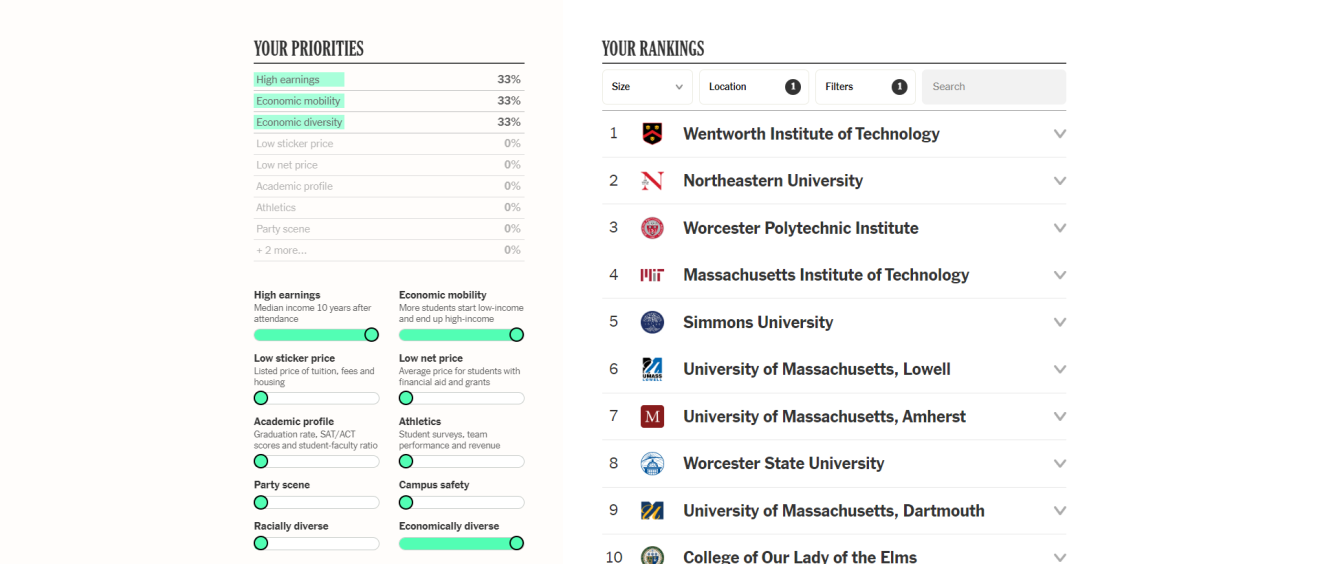 NYTimes tool prioritizing earnings, economic mobility, and economic diversity amongst STEM-focused colleges in Massachusetts.
The New York Times "Build Your Own College Rankings" tool allows users to adjust 10 different priorities to yield customized results. These priorities include sticker price, athletics, racial diversity, and campus safety in addition to the ones mentioned above. It also allows users to filter their results by size, location, admission rates, and other factors to home in on criteria that fit their needs.  
A key factor contributing to Wentworth's success is the university's focus on providing hands-on learning opportunities. Students develop practical skills that are in high demand by employers, making them more competitive in the job market after graduation. In addition to its #1 ranking regionally, Wentworth ranks #25 nationally out of over 700 schools that have fewer than 10,000 undergraduate students, when prioritizing economic mobility and high earnings. The strong showing highlights the school's commitment to being a university of opportunity as it prepares its students for the workforce. 
Wentworth Institute of Technology offers a wide range of programs in fields such as engineering, design, computer science, and management. Program curricula are designed to provide students with a solid foundation in their chosen field, work experience through one of the most robust co-op programs in the country, and the flexibility to explore other areas of interest through an interdisciplinary approach. 
By allowing users to determine the factors they value most in a prospective institution, the New York Times seeks to offer an alternative to traditional rankings, which each have their own proprietary methodologies and criteria that are determined by the outlet. Though they incorporate data, these rankings lean heavily on historical reputation and perceptions of quality that disproportionately favor certain schools. The New York Times' data-driven model omits these biases and presents a more even-handed approach. They've compiled data from hundreds of four-year colleges and universities in the U.S. to power the tool. Learn more about how it was built.