Wentworth Celebrates Students in Four Commencement Events
Speakers urge making a positive impact on the world
Summer Commencement returned to campus this week in a significant way.  
Over the course of two different days, Wentworth Institute of Technology hosted four in-person ceremonies with both Class of 2020 and Class of 2021 graduates crossing the stage. 
Image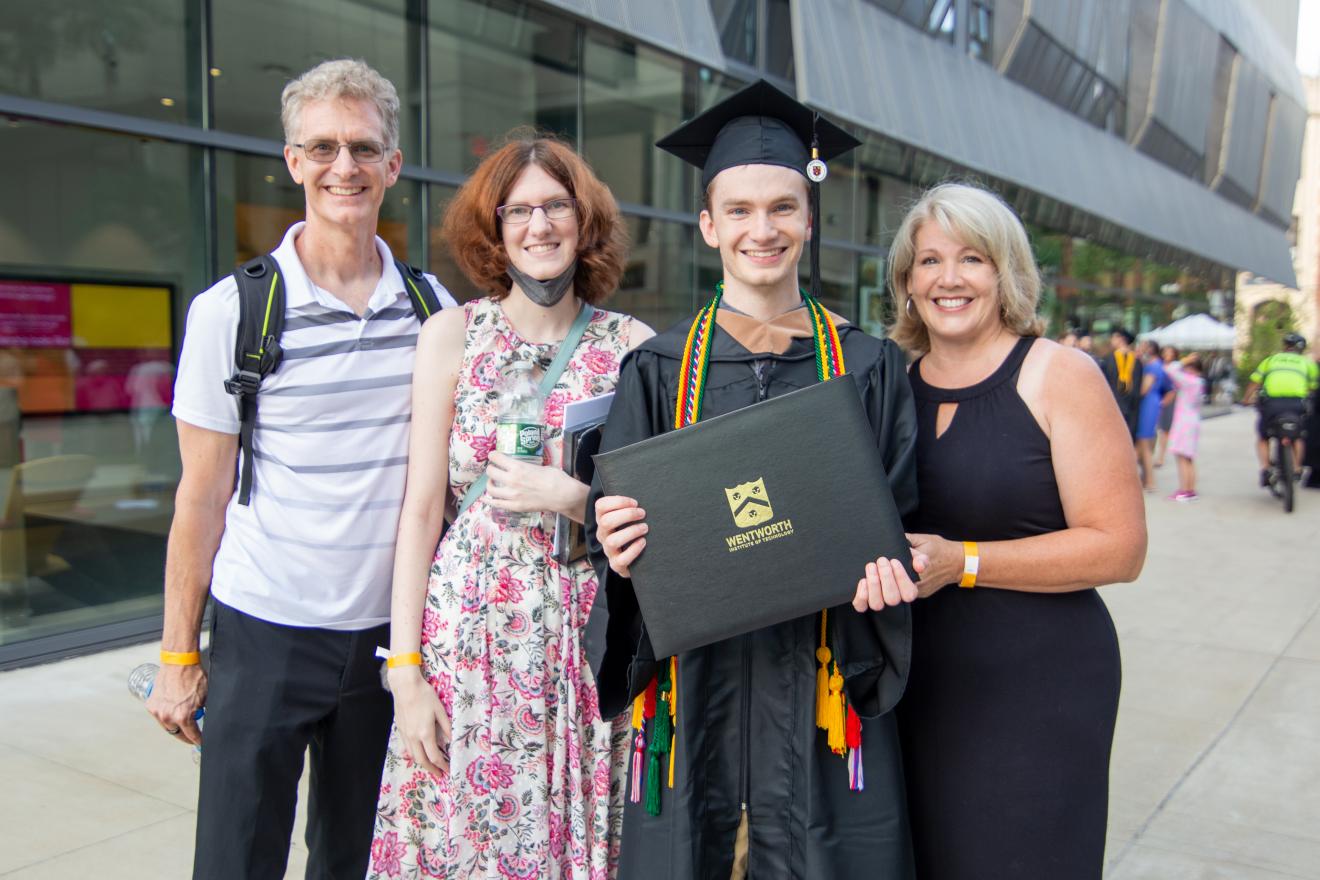 Saturday – 10:00 a.m. 
The day began with the return of Class of 2020 graduates, a group unable to have a traditional ceremony last year due to the COVID-19 pandemic.  
With friends and family in attendance, more than 145 students gathered as Provost and Senior Vice President for Academic Affairs Ian Lapp brought the festivities to order. Associate Professor Gautham Das led an invocation, and Board of Trustees Chair Greg Janey, '82, '04, Hon. '17, shared his excitement of seeing everyone before having the chance to introduce remarks from cousin, City of Boston Mayor Kim Janey. 
President Mark Thompson stressed that "each of you deserves the recognition you'll receive today," while urging graduates to make a positive difference in the world. 
"Give others the benefit of your full inventive capabilities," he said. "In doing so, you will also realize great personal success and fulfillment." 
A personification of success and giving back would be Rick Grundy '03. Grundy took a co-op position with software company AVTECH in 2001 and—20 years later—is their president. He is also a Wentworth Trustee and the chair of the University Advisers. He has been recognized as one of Rhode Island's "40 Under 40 Business Leaders" and spent many years volunteering with Wentworth's Alumni Association. 
"You'll soon realize that your experience at Wentworth has set you up with tools and experience that can put you far above your peers from other schools," he said during his keynote address. "While other schools may teach their students how to think about things, Wentworth teaches us how to do them. Wentworth students get things done." 
Amanda Siciliano, Civil Engineering '20, has taken that mantra to heart. As a student, she completed co-ops with Simpson, Gumpertz & Heger, as well as with Associate Professor Das, where she traveled to Greece to present research on repurposing waste plastic. She was also an active leader on Wentworth's campus, serving as a senior resident assistant and president of the Civil Engineering Honor Society. During her senior year, she was selected as Wentworth Bowl nominee for her outstanding involvement and contributions to the Wentworth community.  
Since graduating last August, Siciliano has completed the first year of her PhD in Materials Science & Engineering at the University of Maryland. 
While addressing her class, the New York-native noted the sense of belonging she felt at Wentworth and the way that other students made her feel welcome in a new city.  
"We gather here today not only to celebrate our individual achievements but also to honor our collective success as a larger Wentworth community. To remember the value of human connection, and the role we have in taking care of ourselves and each other," she said. 
David Howe, the president and owner of J. Derenzo Companies and longtime benefactor to multiple charities, was awarded an honorary degree. His son, David, a Class of 2021 Architecture graduate, accepted on his behalf.  
Graduate names were read by Dean of the School of Architecture and Design Seunghae Lee, Dean of the School of Computing and Data Science Durga Suresh-Menon, Dean of the School of Engineering Jose Sanchez, School of Management Professor John Cribbs.  
Image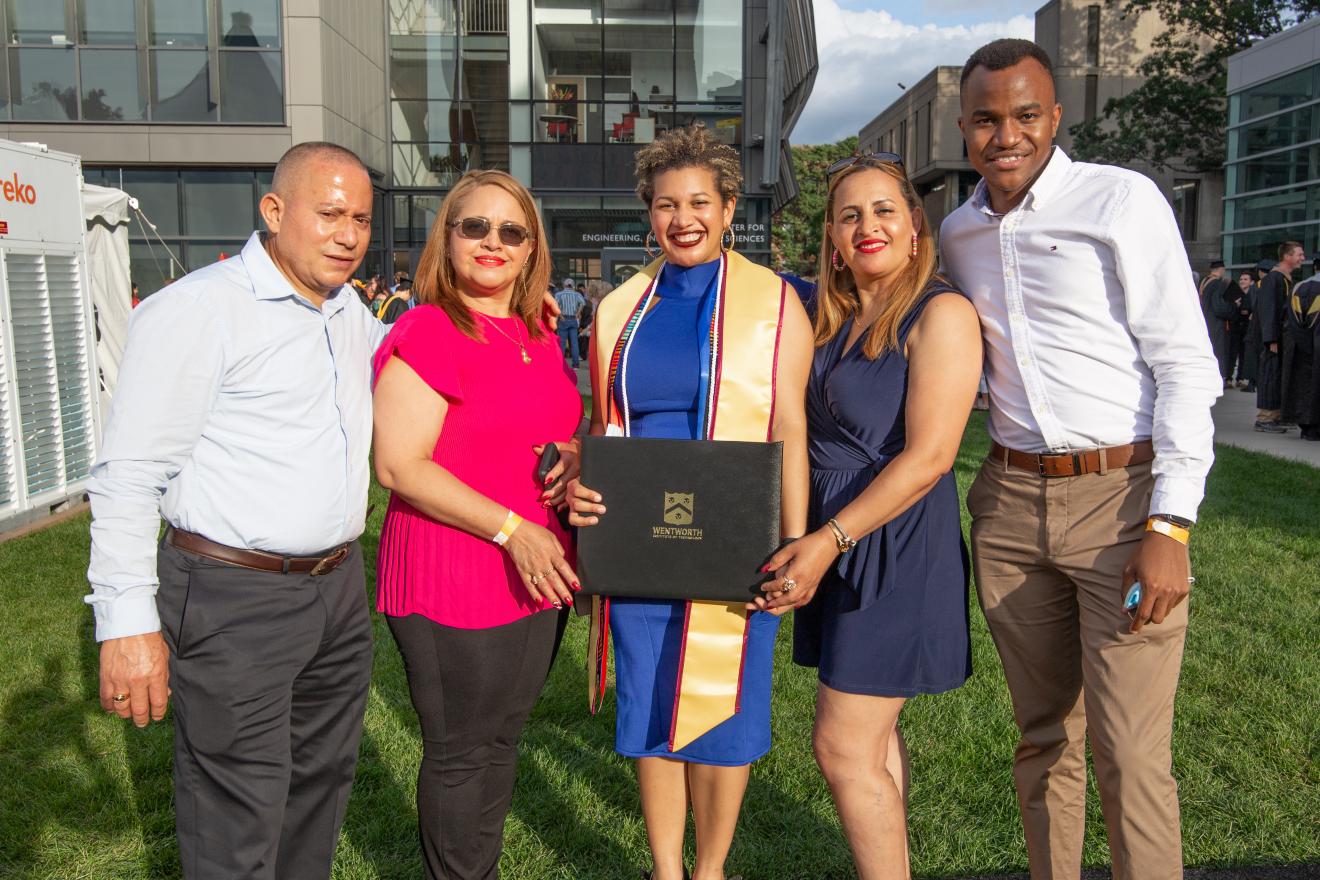 Saturday – 1:00 p.m. 
A retired U.S. Navy Captain and submarine nuclear weapons system officer with 26-years of service, Wentworth Trustee Kenneth Turner has worn a number of hats over the years. Originally from Baton Rouge, Louisiana, he is the president and CEO of the Massachusetts Life Sciences Center, an economic development and investment agency dedicated to supporting the growth and development of the life sciences in Massachusetts.  
Turner has served as director of Diversity & Inclusion/Compliance with Massport, and was deputy secretary for Administration & Finance for the Commonwealth of Massachusetts Department of Veterans' Services. Additionally, he has worked in industry for companies including Hasbro.  
Turner's message to the School of Engineering's Class of 2021 students? Embrace unity over division. 
"It's easy to watch the news, read story after story, or scroll through Twitter, and become a pessimist," he said. "I am here to tell you that life is too short, but more importantly the opportunity in front of you is too great, to become one-sided and one-dimensional, to oversimplify who you are and what you are capable of." 
He underscored making a plan, but also knowing when to be flexible when certain opportunities present themselves. Turner had always dreamed of becoming a pilot and even passed the written test years ago. But he failed his physical because of a sickle cell trait.  
"Though I was crushed I couldn't be a pilot I refused to give up on my plan, my dream, of becoming a naval officer. I adapted – I was flexible. I chose a new career path: submarines," he said. "I decided that if I couldn't fly over the surface of the earth, I would travel underneath it and, in the process, become a member of another of the Navy's elite communities." 
Student Corbin Schichtl grew up in a small town and admits that he greatly disliked Boston upon arrival as a first-year student.  
"The city was terrifying," he told the crowd. "The fast-paced culture and constant noise had me constantly on edge. The first couple of months were unbearable, until I did what every single student here today has done. I got support." 
Study sessions with classmates grounded Schichtl and he developed true friendships. Time spent with professors taught him—like Turner—that flexibility is important in life. 
"I hope that when we realize that the path we are on isn't the right one, we all have the courage to bushwhack through the backcountry," he said. 
The Engineering ceremony saw 265 graduates collect diplomas. Dean Jose Sanchez read names.  
Fellow engineering students Richard Zarlenga, Aircraft Maintenance '58, and Douglas D. Schumann, Aircraft Maintenance '64, Hon. '08, were awarded an honorary degree and the President's Medal, respectively.  
Image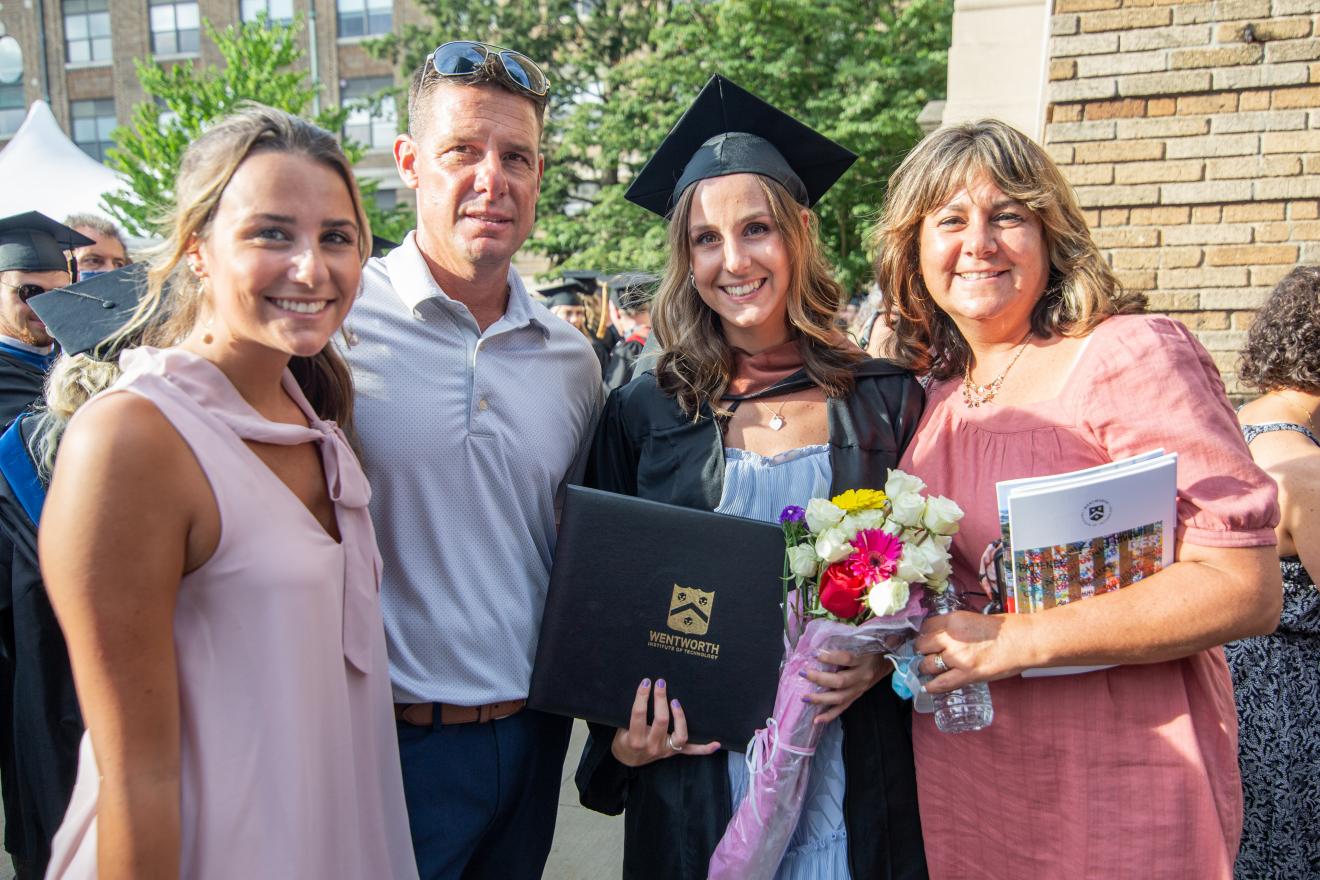 Saturday – 4:00 p.m.  
"How did a woman from Puerto Rico end up leading the Boston Society of Architects, the oldest and second largest chapter of the American Institute of Architects?" asked keynote speaker Natasha Espada about her career rise to Class of 2021 graduates at the late afternoon ceremony.  
The Studio ENEE Architecture principal answered by pointing out that achieving success in the face of adversity takes "finding your own path, finding your authentic self, and finding advocacy." After identifying her strengths in art and math, she located the confidence to not code switch and not be someone she is not.  
Finally, she found work that helped her elevate other voices as well as her own, co-chairing the BSA's Equity Diversity Inclusion and Harassment Task Force, speaking at American Institute of Architects' National Grassroots conferences, and volunteering in her hometown.  
"If you are in a position of power, you have the responsibility to advocate for others," Espada said. "I highly recommend getting involved in causes that inspire you and make an impact where you want to see change." 
Student speaker LilyGrace York, Interior Design '21, would likely agree with Espada's urgings. An advocate for mentorship, leadership, and helping people find inspiration, York shared that she was adopted from China at the age of 13 months.  
"I truly believe that it does not matter where you come from, but where you end up and the connections you make. We all come from different paths of life," she said. "I want you to know that you are capable of achieving anything you put your mind to." 
Receiving an honorary degree was Jack Green, a longtime Wentworth professor who has also served as head of the Humanities, Social Sciences, and Management departments. He served as senior vice president of administration, general counsel and secretary for Converse, and he was also an adjunct professor of Business Law at Tufts University. Green currently serves as general counsel and business consultant for numerous companies. 
Reading names of the 300 students were Dean Seunghae Lee, Industrial Design Professor Nick Ortolino, Dean Durga Suresh-Menon, Laboratory Instructor and Class of 2021 graduate Michael D'Agostino, and School of Management Professor Michael Mozill.  
A Monday evening ceremony was also held in Watson Auditorium for all those in both classes who could not make it to campus on Saturday. Provost Lapp reprised his role as host and President Thompson again delivered in-person remarks.