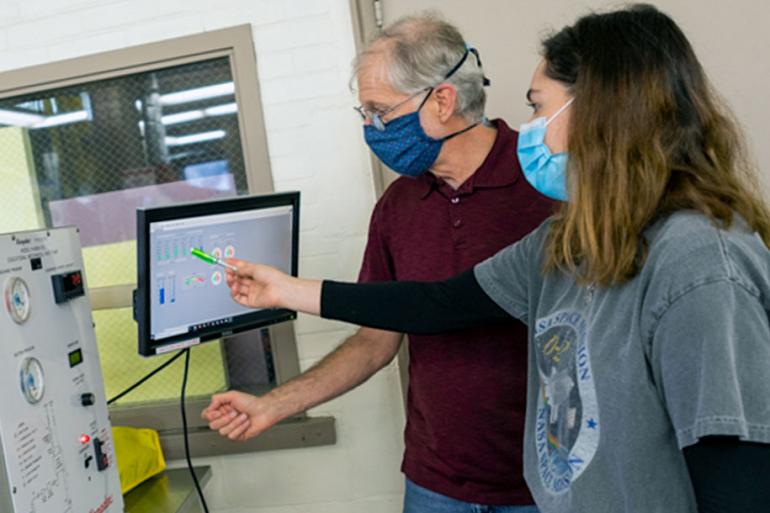 Full Time / On Campus
Through hands-on learning, Wentworth's Mechanical Engineering program balances theory, simulation and laboratory exercises, giving students the skills and knowledge needed to model, analyze, design and realize physical systems, components and processes. 
Best Engineering College Ranking
Wentworth is ranked #32 among the best engineering colleges by U.S. News & World Report based on its reputation and accreditation. Also ranked #1 Best Engineering Job in U.S. News & World Report with 1.9% unemployment rate. 
A Practical, Collaborative Approach
Open-ended, team-based design problems provide an opportunity for Mechanical Engineering students to collaborate with peers from other disciplines. The program integrates applied engineering design and the extensive use of computers with a curriculum that parallels industrial challenges and changes.
Our students use computer software and test equipment to verify and develop principles of engineering in diverse areas such as statics, thermodynamics, material science, data acquisition, structural analysis and machine design. Upon graduation, they are well prepared for traditional industries of mechanical design and engineering, as well as emerging opportunities such as manufacturing and the development of biomedical and electromechanical devices.
Building a Foundation for Growth
As an extension of the Institute's philosophy, the program's mission is to admit qualified high school graduates and prepare them for a productive professional career in mechanical engineering. The program offers you a rigorous mathematically-based engineering education with a balanced laboratory experience that provides the technical knowledge and problem-solving skills needed to grow as an intellectually inquisitive individual and critically involved member of society with a lifelong commitment to continued learning.
Essential Skills for a Rewarding Career
Mechanical Engineering students graduate with:
An ability to identify, formulate and solve complex engineering problems by applying principles of engineering, science and mathematics.
An ability to apply engineering design to produce solutions that meet specified needs with consideration for public health, safety and welfare, as well as global, cultural, social, environmental and economic factors.
An ability to communicate effectively with a range of audiences.
An ability to recognize ethical and professional responsibilities in engineering situations and make informed judgments, which must consider the impact of engineering solutions in global, economic, environmental and societal contexts.
An ability to function effectively on a team whose members together provide leadership, create a collaborative and inclusive environment, establish goals, plan tasks and meet objectives.
An ability to develop and conduct appropriate experimentation, analyze and interpret data, and use engineering judgment to draw conclusions.
An ability to acquire and apply new knowledge as needed, using appropriate learning strategies.
The Mechanical Engineering program at Wentworth is committed to a collaborative teaching model supported by its Industrial Program Advisory Committee providing the students access to many innovative educational opportunities.
High Value Degree
One of the nation's best engineering colleges
Wentworth continues to climb in U.S. News & World Report for Best Engineering Colleges (Doctorate Not Offered).
Mechanical Engineering Labs
From a state-of-the-art Additive Manufacturing lab to a Materials Science lab. 
Mechanical Engineering Salary
Median Average Salary for Mechanical Engineers (source: U.S. Bureau of Labor)
Mechanical Engineering - Best Engineering Job
As ranked in 2021 by U.S. New & World Reports for best engineering jobs.