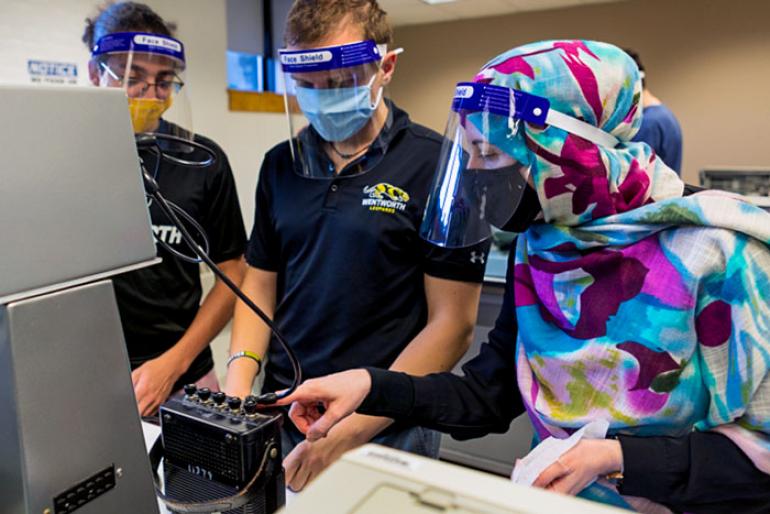 Full Time / On Campus
Become an innovative problem solver in Wentworth's interdisciplinary Electromechanical program and prepare for a career as a professional engineer.
The Electromechanical Engineering (BELM) program is a five-year engineering program with a dynamic interdisciplinary character and unique approach to learning. Grounded in a solid foundation of mathematics, science, and the humanities and social sciences, this program incorporates all the essential elements of an electrical and mechanical engineering curriculum. This program features engineering design courses throughout its five-year study, extensive use of computers to solve engineering problems and a faculty committee management structure that responds quickly to industrial changes and the academic needs of students. Wentworth stresses the importance of a hands-on experience, which means BELM students spend a great deal of time working in our state-of-the-art laboratories. Computers and microprocessors are a large part of the program; students use computers and test equipment extensively to verify and develop principles of engineering in diverse areas such as mechanics of materials, embedded microcontroller systems, analog and digital circuit design, thermodynamics, vibrations, materials science, feedback controls and machine design.
Program Educational Objectives
The mission of this interdisciplinary electrical and mechanical program is to prepare students to become practicing engineers who will go on to be innovative problem solvers in industry, government and academia.
Within three to five years after graduation, graduates of the Electromechanical Engineering program will:
Contribute significantly to the design and development of complex electromechanical systems.
Work effectively as members of multidisciplinary teams that analyze data critically, synthesize information and implement ethical solutions for the betterment of society.
Prepare and present technical information professionally to various audiences.
Further their education either through directed or independent studies to advance them personally and professionally.
The Electromechanical Engineering program at Wentworth is committed to both a collaborative teaching model and a committee management structure thereby providing the students access to many innovative interdisciplinary educational opportunities.
Student Outcomes
Students should demonstrate these abilities upon graduation:
An ability to identify, formulate, and solve complex engineering problems by applying principles of engineering, science, and mathematics.
An ability to apply engineering design to produce solutions that meet specified needs with consideration of public health, safety, and welfare, as well as global, cultural, social, environmental, and economic factors.
An ability to communicate effectively with a range of audiences.
An ability to recognize ethical and professional responsibilities in engineering situations and make informed judgments, which must consider the impact of engineering solutions in global, economic, environmental, and societal contexts.
An ability to function effectively on a team whose members together provide leadership, create a collaborative and inclusive environment, establish goals, plan tasks, and meet objectives.
An ability to develop and conduct appropriate experimentation, analyze and interpret data, and use engineering judgment to draw conclusions.
An ability to acquire and apply new knowledge as needed, using appropriate learning strategies.
Only accredited engineering degree of its kind in U.S.
Wentworth just transitioned this degree from a 5-year to 4-year program. We are proud to offer the only Electromechanical Engineering program in the United States accredited by the Engineering Accreditation Commission of ABET. This four-year program satisfies the electrical and mechanical engineering program criteria set by ABET.  Graduates of this interdisciplinary program can work in the electrical, mechanical, and electromechanical engineering fields.