The Center for Engineering, Innovation and Sciences
Image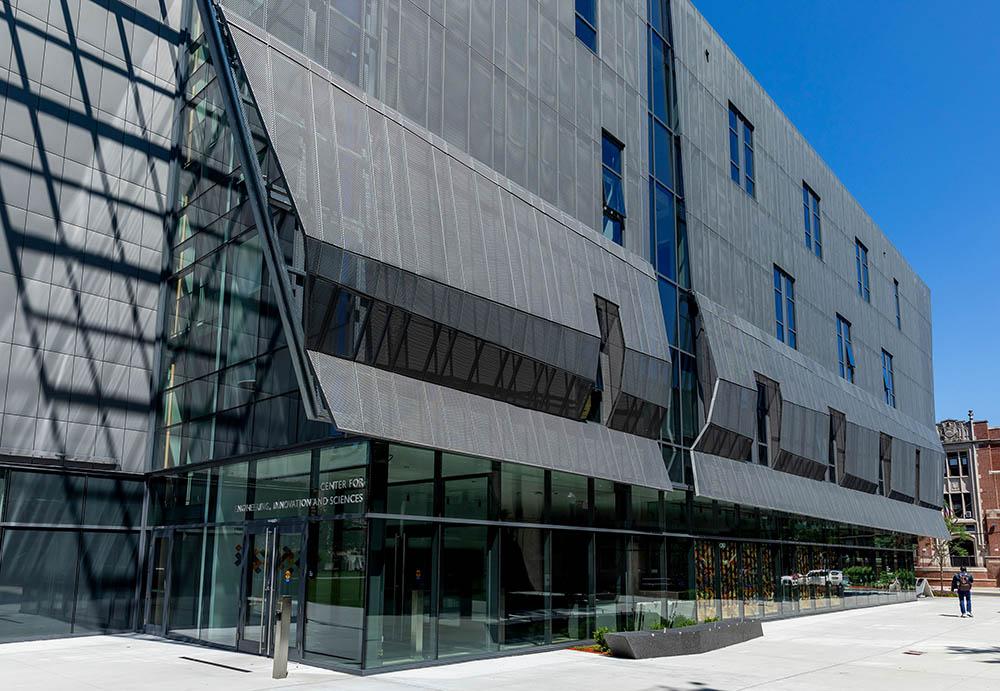 The Center for Engineering, Innovation and Sciences (CEIS) opened for classes on January 2019, roughly a year and a half after the start of construction. This multidimensional building has quickly become of hub for Wentworth's active learning model with
The Benefits 
The 78,000-square-foot, four-floor building stretches 64 feet into the air. Coined a "living-learning laboratory" by Gilbane, the construction company charged with making the CEIS a reality, the building will include updated lab spaces in efforts to foster the hands-on learning approach of the Institute. Certain labs currently residing in other buildings on campus will relocate to the CEIS, while other labs will find a home for the first time there. In addition, the building will have faculty offices in each of the academic departments it serves, and staff offices, including the Office of the Provost. Accelerate, Wentworth's Center for Innovation + Entrepreneurship, will move from Willson Hall to the CEIS, where it will include an Ideation Space, a Maker Space, and an office suite that it will share with the EPIC Experiential Learning programs. The CEIS will additionally house Wentworth's newest cutting-edge academic program in Biological Engineering.
Benefits By Floor
First Floor
Maker Space

Ideation Space

Accelerate Office

Additive Manufacturing Lab

Finishing Shop

Wood Shop
Second Floor
Biomedical Engineering Department
Biomedical Devices Lab

Biomedical Instrumentation Lab

Medical Imaging Lab
Third Floor
Interdisciplinary Engineering
Process Control Lab

Organic Chemistry Lab

Biochemistry Lab

Bioengineering Projects Lab

Biology Lab A

Biology Lab B
Fourth Floor
Civil Engineering Department
Environmental Lab

nstrumentation Lab

Geotechnical Lab

Fluids Lab

Infrastructure Lab
The Construction 
On March 23, 2017, design development began for the Multipurpose Academic Building (MPA), later renamed the CEIS. On July 24 of the same year, actual construction on the new building commenced. 
Since then, the building's interior and exterior have been substantially completed and the campus quad has been sodded. The construction process mirrors the countless changes and tremendous growth Wentworth has undergone over the years. The Institute has constantly brought innovation to engineering, design, and the sciences, and now, the CEIS can contribute to those strides. 
The History
More than 115 years ago, Boston businessman Arioch Wentworth dedicated part of his estate to found a trade school. Since then, Wentworth Institute of Technology has grown from a men's vocational school, to a co-ed college, to a university with accredited graduate programs. With modernization in mind, the Institute made a strive towards learning enhancement with its first new academic building in 45 years. It announced the creation of a trend-setting, state-of-the-art facility on its renowned Boston campus—then known as the MPA, and now introduced to the community as the CEIS. 
Building Toward the Future
Kevin Smith, Special Projects Manager, during construction of Center for Engineering, Innovation and Sciences