Wentworth Celebrates Black History!
Black History Month Events
Wentworth is proud to celebrate Black History Month and honor our beautiful Black faculty, staff, and students. This month will be jam-packed with various events and celebrations. They will all be listed here, so be sure to check back periodically for more information! To kickstart Black History Month off we had our very first event taking place Tuesday, February 1st in Beatty Pavillion: Operation Negus! 
Operation Negus is a gallery show orchestrated by Wentworth Seniors Lily Saki, Crystal Njoroge, and Schuyler Wilkerson in association with Crowns, a student group whose goal is to unite, inspire, support, and engage women of diverse ethnic backgrounds within the Wentworth and the Colleges of the Fenway communities. You can learn more about Crowns here. 
In addition to Operation Negus, there will be many events coming out of The Center for Cultural and Global Engagement! Be sure to keep an eye out for those events in the coming days and weeks.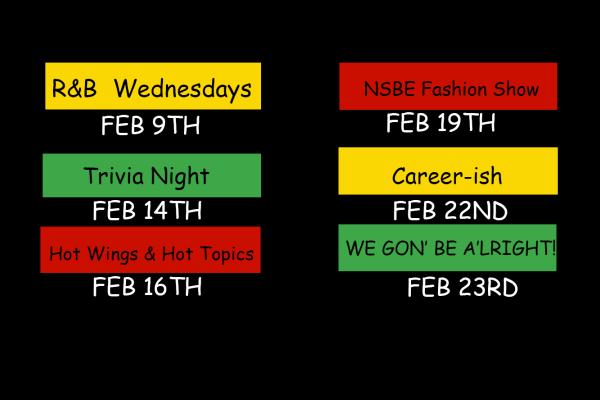 Educate and Celebrate!
When we celebrate Black History month in the United States we are largely celebrating the contributions that African Americans in particular have made to our ever vibrant and growing country. This is necessary because historically the contributions that African Americans have made to our country's progress have often been overlooked, unacknowledged and unrecognized. In 1976 it was president Ford himself that called on the American people to "Seize the opportunity to honor the too-often neglected accomplishments of Black Americans in every area of endeavor throughout our history." 
By honoring the contributions that Black Americans have made to our society and by celebrating their success as entrepreneurs, engineers, doctors, athletes, lawyers, teachers, activists, artists, scientists, journalists, and others, we are not only taking steps at becoming a more inclusive and culturally competent society, but we are also inspiring future generations by showing them that anyone can succeed. When we celebrate Black History Month, we are not just celebrating Black Americans, we are celebrating all Americans. 
If you would like to learn more about Black History you can find more information and resources at the Douglas D. Schumann Library & Learning Commons. We also encourage you to visit the Museum of African American History in Boston.