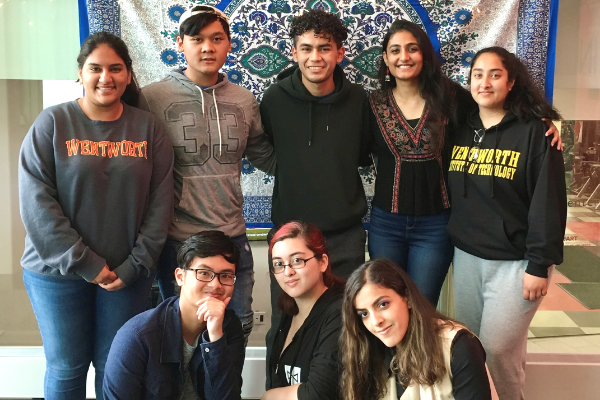 The Center for Cultural and Global Engagement (CCGE) host various events and programs throughout the year. From educational trainings to social activities, The CCGE believes that engaging in diversity and social justice can happen in a variety of ways.  Here are some the CCGE's signature events.
Affinity Months
The Center for Cultural and Global Engagement hosted specific programs to celebrate various affinity months throughout the year. These months include, but are not limited to, Hispanic Heritage Month, Black History Month, LGBTQ History Month, Women's History Month, etc.  
Beloved Community Social Justice Retreat
The Beloved Community Social Justice Retreat is a unique opportunity for students to spend off-campus to engage in activities and learn from each other about around social change. This overnight retreat is held during Martin Luther King, Jr weekend in January and is based on Dr. King's vision of the Beloved Community. Participants partake in various activities that include self-reflection exercises to understand power and privilege while identifying ways to become social change agents at Wentworth and in their own communities. Registration for this retreat is open to all students and transportation, hotel accommodations, and meals are covered by the Center for Cultural and Global Engagement.  
Equity Leadership Series
This series was created to engage students in a series of workshops that focus on equity and change. The goal of this program is to increase students' knowledge around certain topics and strengthen their skill sets to engage in social change in the community in and outside Wentworth.  The Fall 2020 series had the following topics:  
Power, Bias, and Privilege 

Pictures, Gender, and Politics in American History 

Social Identity and the Power of Language 

Zones of Excess Mortality: Homelessness and Poverty in NYC and Boston 

Equity and Inclusion in Higher Education 

History of Whiteness 
Night of Excellence  
The Night of Excellence is the CCGE's end of the year celebration that began in 2018. Through this event, The CCGE acknowledges the accomplishments of students who are involved in center initiatives, programs, organizations, etc. 
Pride Brunch & Boston Pride Parade
The CCGE hosts an annual brunch to bring the community to celebrate LGBQTQIA PRIDE during the month of June. For the last three year (making Wentworth's first appearance in 2017), Wentworth has participated in the Boston Pride Parade with 75-100 Wentworth community members (students, faculty, staff, alums, family, friends, etc.) each summer. 
Student Clubs & Organizations
Diversity & Social Justice student organizations host different programs for their members and for the entire Wentworth community.  Some of those programs include: 
Black History Month Fashion Show 

ISWIT - Iftar Dinner 

Coming Out Week Drag Show 

Bachata vs. Kizomba Dance Night 

WILD Words Poetry Night 

Identity in Design Speaker Series 

Ash Wednesday Services 

Diwali & Lunar New Year Celebrations 
Trainings
Members of the Center for Cultural and Global Engagement offered a wide range of dialogues and trainings throughout the year. Some trainings are specifically designed for students while others are open to all Wentworth community members.  Topics have included: Microaggressions, Toxic Masculinity, Racial Injustice, and Implicit Bias 
Women Lifting Women
The CCGE has partnered with the Schumann Fitness Center to implement this program during Women's History Month. Women Lifting Women focuses on women's comfort while utilizing spaces that are typically dominated by men. Participants build their confidence by working with professional fitness instructors through learning lifting and fitness techniques.  
It's important to note that, the Center for Cultural and Global Engagement collaborates and partners with other departments to ensure that diversity, equity, and inclusion efforts are being implemented across all communities at Wentworth. The CCGE is always looking for new programs to engage students.