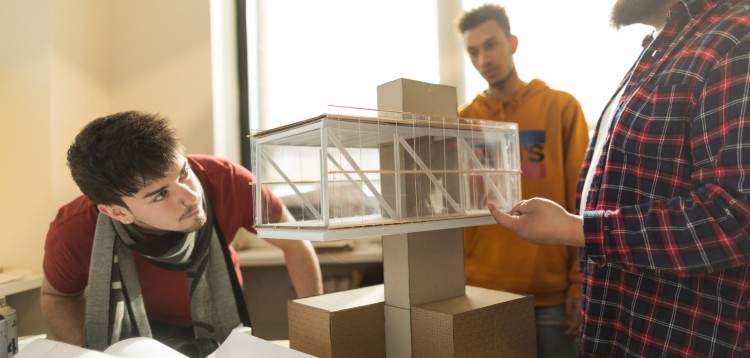 In addition to our one-year, NAAB accredited, first professional Master of Architecture degree for undergraduate students who have finished our four-year Bachelor of Science in Architecture degree, we offer NAAB accredited two-year and three-year graduate programs. 
Our graduate students develop rigorous explorations into the field of architecture through the creative process of making. Coursework is wide-ranging, exposing students to professionals in the field of architecture. With an emphasis on developing critical thinking skills and expertise in the design studio sequence, studio projects address tectonic, social, and environmental themes at multiple scales. History, Professional Practice and Theory courses ensure the development of fundamental intellectual knowledge sets. Students practice iterative making in order to synthesize present-day critical themes of inquiry and discovery to become forward thinkers for the future. 
Building on these fundamental areas of knowledge, Special Topics Studios and Architecture Electives investigate the creative processes of architecture through representation and fabrication. Students explore their ideas using physical production. In addition, our laptop program, woodshop, 3D printing capabilities, laser cutting and CNC machines bring the most current of technologies to the minds and hands of our students. 
Our faculty share their expertise and insights with the students. They bring with them a broad range of academic, research-based and professional practice expertise. In addition, advanced level studios and electives are sized in small groupings so as to cultivate meaningful teacher-student dialogue. Our open space studios foster an environment of collaboration enhancing engagement and exchange of ideas with peers and faculty.     
Each student is essential in contributing to and building on our rich learning environment. We hope that you will explore your ideas with us. Come join us and design your future.