You are here
Healthy Eating in College
Here are some basic tips for eating healthy on campus:
Don't pass by the salad bar. The salad bar often offers a wide variety of healthy choices. You can make a large salad or make toppings for other food.
Go for lean meats.  If you can, try and choose the chicken or fish over a burger.
Choose whole grains when possible.
Mix it up. Don't eat the same thing every day. Trying new things and varying your diet will help maintain a balanced diet.
Moderation, moderation, moderation. Sweets and fried foods always look good, but remember to eat them in moderation by balancing them with healthier options.
Don't drink soda. Try cutting back to one soda per day and then switching to water, juice, or low-fat milk.  The calories, sugar and caffeine in soda aren't a healthy choice.
For more information, check out the following articles:
Click here for a list of dorm room-friendly recipes.
Dining on Campus
Wentworth students have access to the Beatty Cafe and Leopard Cafe in Beatty Hall, the MassArt Dining Commons, and Spoon Cafe in the Treehouse building. 
Visit the Chartwells website for information about on-campus dining, including:
Hours and location information
Daily menus with nutritional information
Information about allergies, dietary meal accommodation, and meal plan waivers
Access to MyFitnessPal, a calorie counting app
Social media links to stay on top of special events and promotions
Choose "My Plate"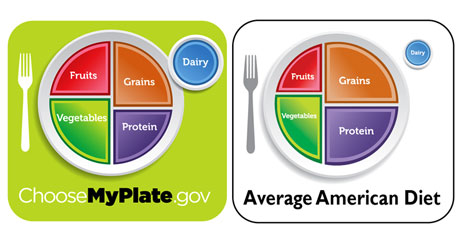 The USDA recommends:
Make half of each meal fruits and vegetables
Make at least half of your grains whole grains
Get your protein from a variety of sources, including meat, poultry, seafood, beans and peas, eggs, processed soy products, nuts, and seeds
Choose lean or low-fat meat and poultry
Switch to low-fat (1%) or fat-free (skim) milk and dairy products 
Resources
Choose My Plate - The USDA's My Plate, dietary guidelines and more.
Nutrient Data Laboratory - Search the USDA's national nutrient database for nutrition information.
The Vegetarian Resource Group - Nutrition info, restaurants, and recipes for vegetarians.
The Daily Plate - Helping you eat smarter.  The easy, free way to track what you're eating each day.
Mass Farmers Markets - Guide to farmers markets in Massachusetts.
Books available for loan from the Office of Wellness Education:
The Really Useful Vegetarian Student Cookbook
The Dorm Room Diet
The Idiot's Guide to the College Diet Cookbook
Eating Concerns/Disorders
National Eating Disorders Association - Information and resources for those affected by eating disorders.
National Association of Anorexia Nervosa and Associated Disorders
Beyond Hunger - Freedom from the obsession with food and weight.
If you think you may struggle with an eating disorder, schedule an appointment with Counseling Services for further assessment and treatment.