Wentworth faculty, staff, students, contractors and visitors are assigned to designated lots on campus, depending on the type of parking permit issued.  Please familiarize yourself with these details.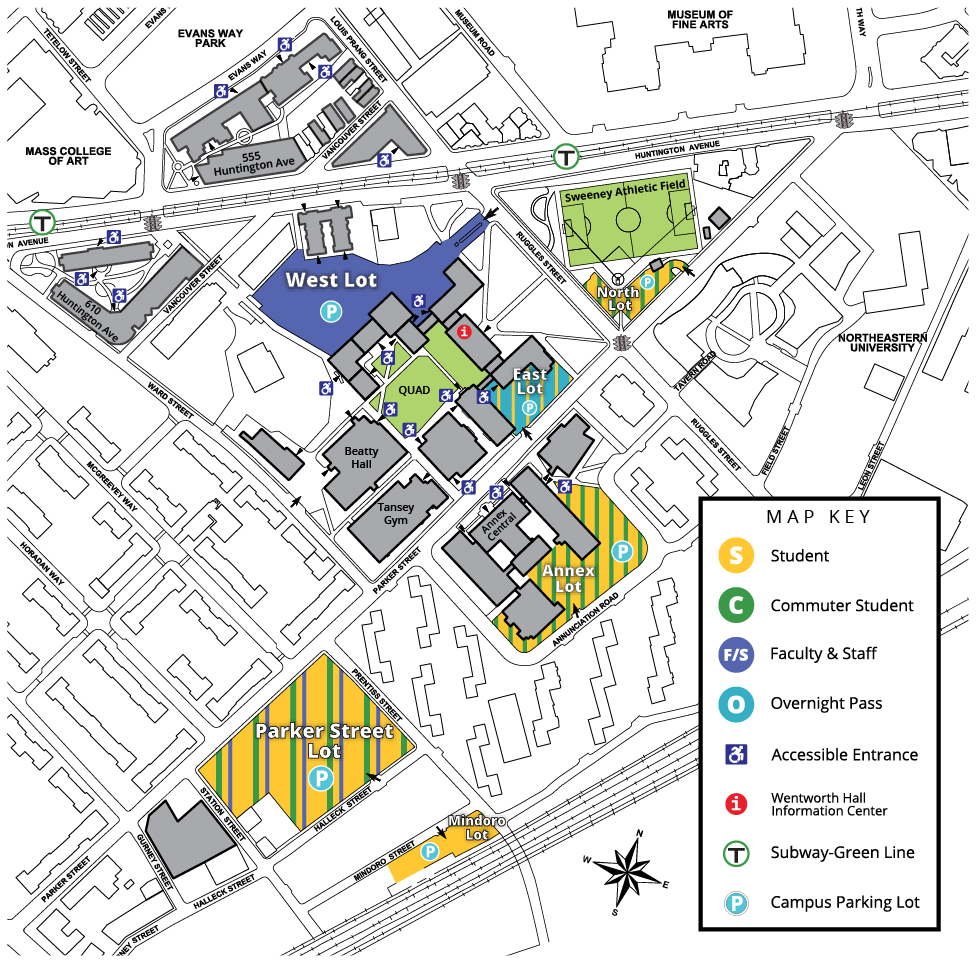 Display of Parking Permit
Parking permits must be hung from the rearview mirror facing towards the front of the vehicle. The permit must be displayed and clearly visible at all times. 
Changing of Parking Category

Anyone changing his or her parking category will be required to register with the Wentworth Police Parking Office to secure the proper parking permit. Any student who becomes a full-time employee of Wentworth will have to pay the difference in the base cost of the permit.

Students, staff, and faculty temporarily using a loaner vehicle may display their permit on the rearview mirror of the loaner car.  You may have only one vehicle associated with the permit on campus at any given time.  Any permanent changes to your vehicle's information must be reported to the Parking Office to keep the department's records up to date.

Lost permits must be reported to the Parking Office immediately.

Loading zones may be occupied only long enough to conduct the actual loading or unloading. This will be strictly enforced. Multiple citations will be issued, and vehicles may be towed at the owner's expense. These spaces are reserved 24 hours per day.

Due to limited parking spaces in each parking lot, issuance of a parking permit does not assure a parking space, however, the Wentworth Police Department Parking Office will assist you or direct you to another parking area if available.

When a vehicle becomes disabled the owner/driver must notify the Wentworth Police Department immediately. All information will be recorded. A reasonable amount of time will be afforded to repair or remove the vehicle before citations are issued. We will gladly make any emergency calls for tow service or AAA at your request. Jumper cables are available to the Wentworth Community. Police Officers are not allowed to utilize department vehicles to jump-start other vehicles.
Citations/Tows
The registrant is held responsible for all parking citations issued to the parking permit, regardless of who parked the vehicle at the time of the violation.
The acceptance by any person of a parking permit, temporary or permanent, shall constitute their acceptance of the responsibility to observe and abide by all regulations, ordinances, and/or laws, which govern the parking of their vehicles on the campus. Obtaining a WIT parking permit is not a guarantee of unfettered parking in a specific lot. Special events on campus occasionally require the brief relocation of available parking.
Students will be held responsible for advising guests of parking regulations.
WIT Police Officers make frequent patrols of all campus parking lots and issue parking citations to any vehicle in violation of the WIT parking policy.
Parking violations include, but are not limited to:
Parking in a "No Parking" Zone (e.g. Fire Lane)
Parking in a reserved/designated Area
Having no permit displayed on vehicle
Displaying an invalid or expired permit
Parking in a section of a lot not designated as a parking space (e.g. in a hash marked section at the end of a row)
Obstructing or blocking access or a roadway
Parking during unauthorized hours
Vehicles are subject to tow without prior warning at the vehicle owner's expense.
Vehicles Towed from Streets Surrounding Campus
If your motor vehicle has been towed from any street surrounding the Wentworth campus, please contact the Boston Traffic Department at (617) 635-3900 or look up on the Towed Cars Lookup. You must have your license plate number available. The Boston Traffic Department will advise you if your vehicle was towed and direct you to the tow yard.