Through Student Success Advising, the Student Success Studio encourages, guides, and supports students, helping them navigate the college experience. Student Success Advisors are available to answer questions and connect students with resources across the Wentworth community. Additionally, Student Success Advisors provide the following: 
Degree Planning and Registration
Degree Planning is one of the primary services provided by Student Success Advisors. This is especially helpful for students that are out of sync with the curriculum and need to develop a customized curriculum plan. Student Success Advisors are also available to assist students with various registration needs. 
Success Workshops
Each semester, Student Success Advisors offer skills workshops, helping students develop their organization, notetaking, study, and time management skills. Students may also schedule one-on-one Academic Skills appointments at any time. 
Customized Success Plans
Student Success Advisors develop customized success plans to help address individual students' concerns and are tailored to target the areas in need.
How to Schedule an Appointment
Log in to EAB Navigate using your WIT email and password.  
Click the blue "Schedule Appointment" button on the upper left corner.  
Select "Advising" from the dropdown menu.
Advisors by Discipline
Major
Advisor

Architecture 
Interior Design
Industrial Design

Emily Burke

Computer Science
Computer Networking
Cybersecurity
Computer and Society

Ean Anderson

Applied Math
Computer Science
Computer Networking
Cybersecurity

Carla Acosta

Biological Engineering
Biomedical Engineering
Civil Engineering
Computer Engineering
Electrical Engineering
Electromechanical Engineering
Interdisciplinary Engineering
Mechanical Engineering

Robert Hines

Biomedical Engineering
Civil Engineering
Computer Engineering
Electrical Engineering
Electromechanical Engineering
Interdisciplinary Engineering
Mechanical Engineering

Kayla Schneider

Construction Management
Computer Information Systems
Business Management
Applied Sciences

Dan Roark
Academic Honesty Workshop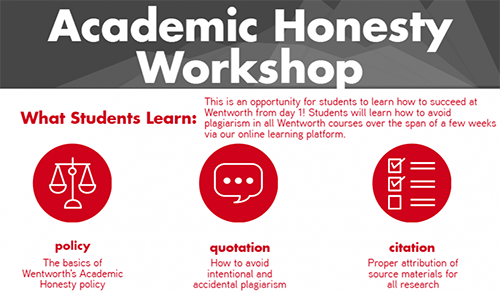 Students will have the opportunity to learn how to succeed at Wentworth from day 1 Through the Academic Honesty Workshop, students will learn how to avoid plagiarism in all courses in the span of a few weeks via our online learning platform, Blackboard. (Instructions for accessing Blackboard) The workshop is broken down into three sections:
• Policy, an overview of Wentworth's Academic Honesty Policy
• Quotation, avoid intentional and accidental plagiarism
• Citation, proper attribution of source material
The workshop is designed to take a month to complete if done at 2 hours per week.  Following completion, students will receive feedback from Wentworth professors on their work.
For any additional questions, please contact JoJo Jacobson at jacobsonj@wit.edu. For any help with Blackboard, please see the help site.
Learning at a Distance or Online
Learning at a distance, either in a hybrid on online fashion, creates unique challenges. A number of our distance students have set up student groups with tutors, generally arriving an hour before their class begins.  We can also arrange virtual group sessions for online and distance students.  The CAE recommends the following options for distance students:
Online Tutoring Appointments -- Students can set up GoToMeeting tutoring appointments with tutors in advance via our scheduling platform. Please email jacobsonj@wit.edu for assistance. 
Distance Writing Assistance – Please email your paper to the center. During busy times of the semester (such as during midterms and from two weeks prior to the start of final exams through the final exam period), we will return your paper within 2 business days with comments and suggestions. Please email jacobsonj@wit.edu for online writing assistance.
Virtual assistance – The Center for Academic Excellence offers a number of different platforms for distance tutoring.  Please contact the CAE to set up an appointment jacobsonj@wit.edu.