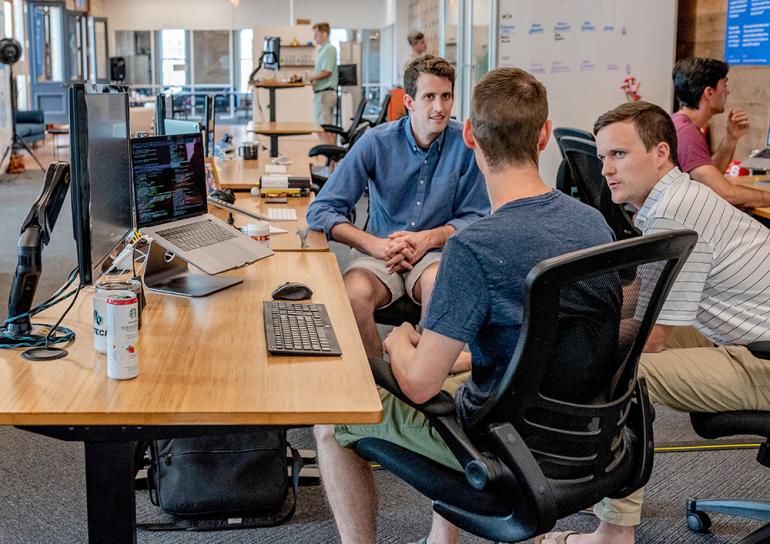 Part Time / Off Campus Online and On Campus
Wentworth is currently evaluating this part-time program. The next start date will be Fall 2022. Applications for Fall 2022 will be available starting in September 2021. Additional information about the admissions process and programs will be posted as it becomes available so please check back regularly.
If you would like to receive the most up-to-date information, please submit your information and we will add you to our mailing list.
If you have additional questions, please contact admissions@wit.edu.
Project managers are agents of change, leading innovations in the way work is performed and results are achieved. Our Bachelor of Science in Project Management, one of the only programs of its kind in the US, will give you the skills and knowledge you need to get started in an exciting career in project management. Earn top dollar and advance into leadership in a range of industries from finance, to technology to construction.
Learn by Doing
Our hands-on, active learning style will give you with the skills and knowledge you need to deliver a project on time, on budget, and within scope. Master the fundamental principles of business and management including accounting, computer software systems, marketing, and finance as outlined in the PMBOK. Plus develop the essential leadership, organizational and problem-solving skills in demand by over 65% of today's top employers. Graduates of the program who would like to develop advanced project management skills and knowledge can easily transition into the Master of Science in Project Management.
Benefits of the program include:
On-campus or 100% online class formats allows you to balance work, life and school.
Transfer up to 80 credits—out of 128 total credits--from prior educational and professional experiences
Flexible, part-time program can be completed in as little as 3 years.
Classes taught by industry experts.
A Resume that Speaks for Itself 
Our program centers around the skills and experiences that are in-demand in today's business marketplace. Students master core project management competencies, including: 
Communication 
Decision-making 
Execution 
Strategic Development 
Team Management 
Business Acumen 
Technology  
Critical Thinking 
Project Managers in the World
According to the Project Management Institute (PMI), demand for Project Managers is growing faster than demand for workers in other occupations. Through 2027, the project-management labor force is expected to grow by over 33 percent, creating 22 million new jobs, and over 87 million professionals employed as Project Managers.