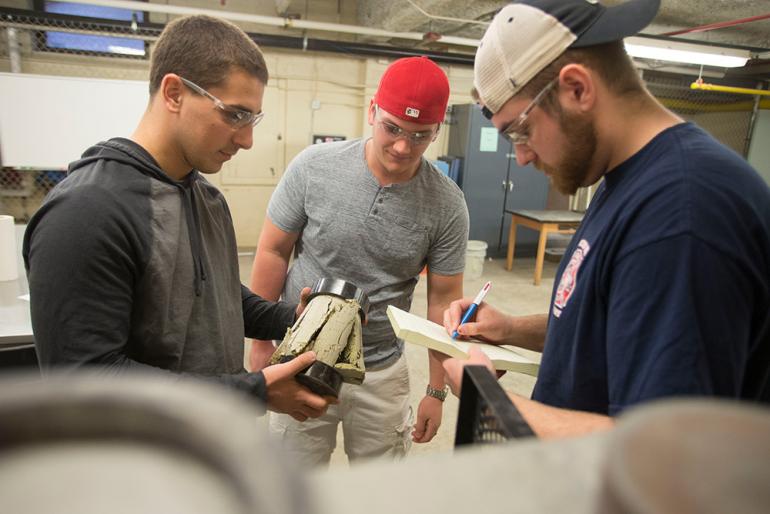 Part Time / On Campus Online
Wentworth is currently evaluating this part-time program. The next start date will be Fall 2022. Applications for Fall 2022 will be available starting in September 2021. Additional information about the admissions process and programs will be posted as it becomes available so please check back regularly.
If you would like to receive the most up-to-date information, please submit your information and we will add you to our mailing list.
If you have additional questions, please contact admissions@wit.edu.
Our Associate's degree in Building Construction Management, will help you advance your career, and earn top dollar, in one of the fastest growing industries.
Learn by Doing
Hands-on, experiential learning opportunities will get you ready for a career designing, building, and preparing basic building and contract services. Learn the core principles of construction management, including scheduling, surveying, CAD, estimating, codes and contracts and more. Graduates of the program transition easily into Wentworth's bachelor of science degree in building construction management or project management.
The Associate degree in Building Construction Management offers a number of important benefits, including:
Evening courses that allow you to pursue your degree while still being able to work full time and meet your personal obligations.
Available 100% online or on campus
The ability to transfer up to 32 credits into the program from prior educational and professional experiences. Depending on the number of credits transferred, you can complete the degree in as little as three years.
Faculty who have experience in the field as well as first-hand knowledge of the material
Access to all of Wentworth's resources and support services, including the library, academic advising and technical support.
Building Construction Managers in the World
According to the Bureau of Labor Statistics, working adults with an associate's degree earn 6% more than their counterparts with some college but no degree, and up to 18% more than working adults with a high school diploma and no college. And, they enjoy more job security and less unemployment than those with no college education. Our associate's degree in Building Construction Management will help you advance your career and earn top dollar in one of the fastest-growing industries.
$72,892 average annual salary (Payscale)
476,700 construction management jobs, 2019 (US Bureau of Labor Statistics)
8% growth in construction management jobs 2019-2029 (US Bureau of Labor Statistics)