Quick Links
What is Nuvu?
NuVu (pronounced "new view") is a portfolio-based assessment tool used by select faculty in the Architecture department at Wentworth. A portfolio serves as a compilation of student work done during the semester and is meant to show the student's growth over time and development of key academic and life skills (creativity, critical thinking, collaboration, communication, research, quantitative reasoning and analysis).
If your instructor decides to integrate NuVu within their course design, each student is provided with their own online "studio" on NuVu's online platform, where they document and present their work, submit assignments, etc.
Using the NuVu's tool, faculty are able to assess how far the student has developed since the beginning of the course. The portfolio-based assessment helps make learning and assessment relevant to students' lives.
Possible Uses
Instructors may decide to use Nuvu within their course design for a variety of assessment options including, but not limited to:
share studio information and announcements centrally and per section
share your ongoing project with studio peers and instructors
archive different projects in the form of an online portfolio
share resources like precedent projects, inspirational images, articles etc.
collect project images to make presentations
Using the NuVu Platform - Students
How to Access the NuVu Portfolio Platform
You MUST access your NuVu Studio from within your Blackboard course website. Once in Blackboard, you should see a NuVu [Studio] link on the Course Tools menu in Blackboard as shown below.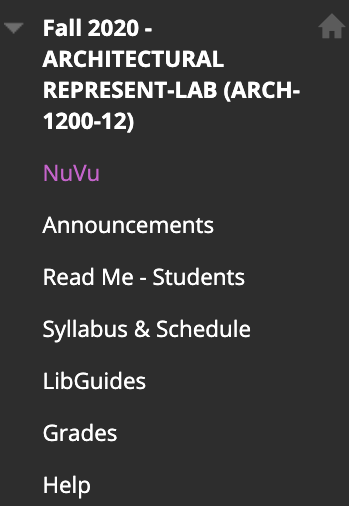 When you click on the NuVu [Studio] link you will be taken to a page in Blackboard that has a link to the NuVu Studio as well as a "Need help" link.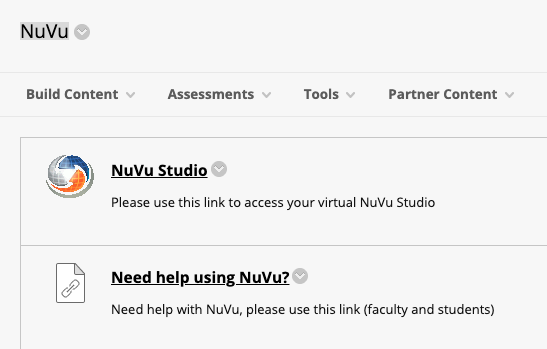 Click on the NuVu Studio link to access the NuVu platform.
Note: If you are logging in to NuVu for the first time connecting via Blackboard, you may need to reset your password.
User Guide
Access NuVu - Faculty
From your Blackboard course web site, click NuVu [Studio] from the Course menu located on the left side of the Blackboard course homepage. (see above).
Note: If you intend to use NuVu and the link is not visible on the Course Menu in your Blackboard course, you can add it by following these steps. (please watch the short video that demonstrates how to Add NuVu Studio Link to Course Menu in Blackboard below)
Next, Edit the NuVu link in Blackboard and select "No" for the setting, Permit Users to view this content until AFTER the add/drop deadline. For merged courses, only the coordinator will do the above.
Click Submit to Save
Add NuVu Platform Link to the Course Menu in Blackboard
Please take a moment to watch the video below that provides detailed instructions for adding a NuVu Studio link to the course menu in Blackboard.

Click the "Watch in Panopto" button (diagonal arrow icon) located at the bottom of the video to view full screen.
Setting up the Studio
Note: Your NuVu Course Title will be the same as that in Blackboard. Please DO NOT change it!
On the right side of the page, click the four lines and select Edit Studio
In the General Tab, click Show on Explore Page.
Click Save
In the Design Tab, you may select a Representative Image that will display on the Explore Page.
Click Upload Image to select an image from your computer or network drive. Or choose Pick from Existing Images to select an image that has already been uploaded to this site.
Click Save
In the Tags Tab, select the relevant degree level and year.
Click Save
Creating Sections - Course Coordinators Only
Click on Settings icon --> Setup
Under Setup, click on Tabs
Scroll all the way to the bottom of the page, click on Add Tab, choose Sections from the drop down menu and click on Save:
Navigate to the Sections tab. Type in section name (use section instructors' last names, e.g., "Epshteyn") and hit Enter on your keyboard.
Uploading your course syllabus
In the Syllabus tab, click on text box with "Enter Title Here". This will open a text editor. Enter Title, such as "Syllabus". . . Click on File. Follow the prompts for uploading a file, then click on Publish.
Adding additional resources
Navigate to the Resources tab. Type in resource name (e.g. "Readings") and hit Enter on your keyboard.
Click on the resulting resource folder.
Click on text box with "Enter Title Here". This will open a text editor. Enter Title, such as "Week 1 Readings". Upload files or type text into the box. When done, click on Publish.
Setting up Projects
Project folders are created automatically for each student as they enter the course for the first time. However, instructors or course coordinators must set up Project Tabs for multiple assignments.
Click on Settings icon --> Setup
Under Setup, click on Tabs
Scroll down to Projects, add more Sub-tabs as needed (one for each assignment in the course), and create a Label for each assignment (e.g. Assignment 1, Assignment 2, Final Project, etc.). When done, click Save.
When students are added, project folders are automatically created for each student.
Resources
For additional information on using NuVu, please visit the NuVu - Nufolio user guide.
For more information
Please contact Learning Innovation & Technology for assistance using this product in your course or project, email lit@wit.edu, stop by Beatty 318, or call 617-989-5428.