What is Ally?
Blackboard Ally is a tool built into the institution's Learning Management System (LMS) that allows you to identify and correct accessibility issues in your course content. Ally provides you guidance on how to correct accessibility issues with your online course content, which means learning materials will work better on mobile phones and tablets as well as with assistive technologies 
What's This Dial I'm Seeing?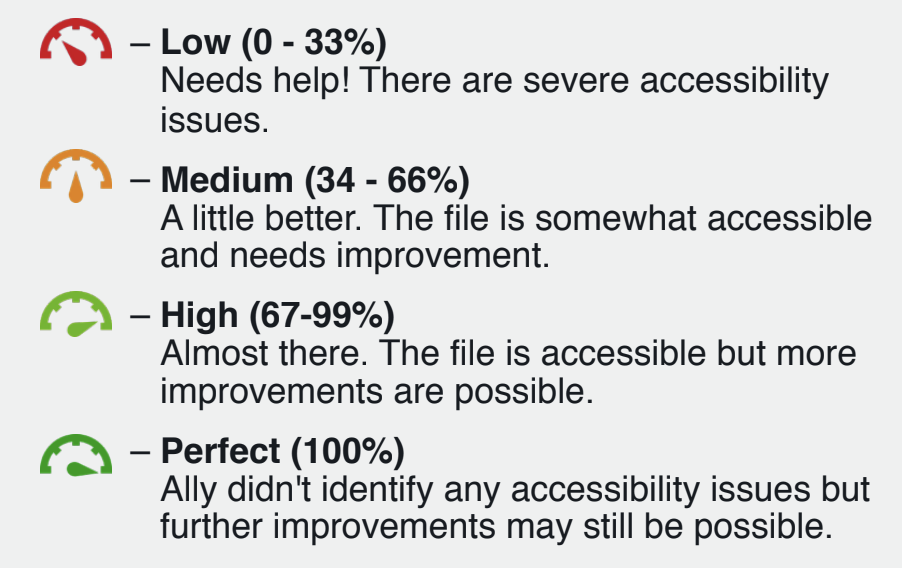 In addition to creating alternative formats for your files, Ally measures the accessibility of each file attached to your course and shows you at-a-glance how it scores. The dial represents a level of accessibility. Scores determined by the severity of issues in each file. A low score indicates the file has severe or multiple accessibility issues; a high score means there are minor or no accessibility issues. 
Each score is composed of both a number (percentage) and a colored gauge that reflects the number. Scores range from Low to Perfect. The higher the score, the fewer the issues. For files with Low to High scores, Ally shows you the issues and gives a step-by-step guide on how to fix them.  
Currently, Ally checks files in these commonly used formats: 
Microsoft® Word files and PDF files (first priority for our initial launch) 
Microsoft® Powerpoint® files 
Open Office/LibreOffice files 
Uploaded HTML files 
Ally's accessibility checklist is based on WCAG 2.0 AA (Web Content Accessibility Guidelines). This is an international accessibility standard, and most of the new legislation and legal requirements worldwide align with this standard. To measure accessibility, Ally assigns your file an accessibility score.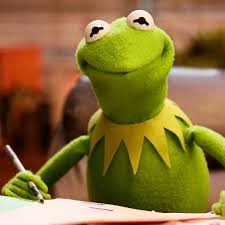 Green is the goal! It may not be realistic to achieve 100% on every file. Ally is a tool for continuous improvement. It is most important to address critical issues and Low (Red) accessibility scores first. 
There's an accessibility course report that can help. To get the report, you will need to add the Accessibility Report tool link on your course menu in Blackboard. Watch this video to learn how to add the Accessibility report tool to your Blackboard course website.
The report provides an accessibility summary at the course level so you can get the big picture as well as specific details about the accessibility of your digital course content. Watch this video to walk through the features of the Accessibility report.  
OK, I want to do my part, where do I start?  
We recommend you start with the syllabus. The Institute Curriculum Committee an approved syllabus template with accessibility features already built in that you should use.  In addition, we've created a short video that walks through the features that make the syllabus accessible.
What about my other course content? 
Scanned PDF's represent a high number of documents that are not digitally accessible to students and are an important place to focus our accessibility efforts. Screen readers and mobile devices interpret these documents as a single image with no description which can't be read. We recommend that you contact the Library Reference Instruction staff via email at ref@wit.edu for assistance locating digitally accessible versions of your content.  
If the PDF(s) were generated from content you created, we recommend you locate and update the original document to make it accessible. Resources to help you accomplish this can be found by accessing the Library website.
Why Accessibility Makes a Difference: Improve Relationships with Your Students  
Universal Design for Learning (UDL) is a sound educational practice demonstrated to move the needle on student persistence, satisfaction, and retention because it reduces barriers of learning for everyone, especially reaching mobile learners through anytime, anywhere interactions.  Universal design for learning practices help all students by giving them options that support different learning styles and preferences. Content can be consumed with more flexibility and read with smart phones and electronic devices. Clear content organization enhances student engagement and success.
Ally automatically creates alternative versions of your files! This allows students to choose the type of file they want that best suits their needs. While you're in the process of improving files, students can still access alternative copies.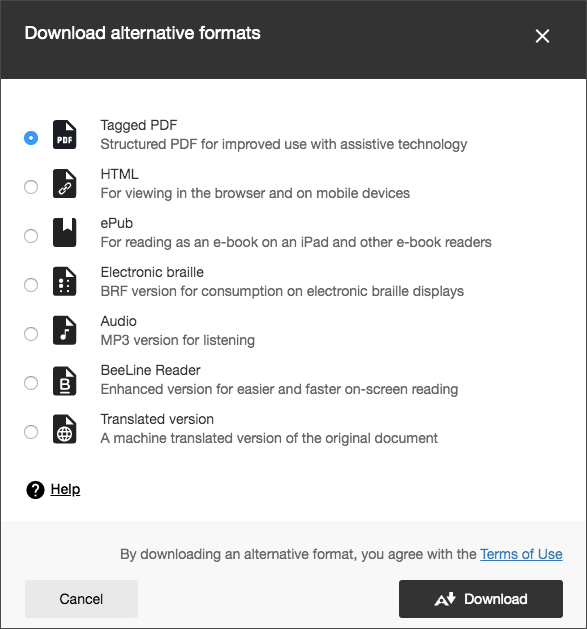 Resources and Help 
Remember the goal is progress not perfection.  We're here to work with you on this journey. The main focus is using the accessible syllabus template and PDFs that are scanned using OCR software for readability or alternative Permalinks.  
Do you like self-help resources? Visit this accessibility webpage and Library Guide that provides just in time resources. There's a lot of great information and tools.  Blackboard has robust Ally Help.
Using Videos that you'd like to caption? Contact LIT for captioning assistance. Panopto is Wentworth's video repository tool and it has speech to text captioning, which you can edit. If students need captioning as an accommodation, we'll show you how to submit videos for paid captioning (There is a four-day turn around for paid video captioning service provided by Panopto; so it's helpful to submit videos a week before students need them). 
Not using Blackbord Learn?
We encourage you to use Bb Learn to organize and share your course materials with your students. However, even if your content resides "outside of Blackboard", all digital content you share with students should be accessible.  Look in the software tools your using for built in accessibility checkers that also scan for accessibility features and provide tips to make improvements. 
For More Information
Please contact Learning Innovation & Technology for assistance with making your course more accessible.  Email lit@wit.edu, stop by Beatty 318, or call (617) 989-5428.