The Power of Group Work and Collaboration
Much of the work that happens in today's global economy takes place in groups and teams. At Wentworth, project-based, lab, studio and cooperative learning are cornerstones in our curricula. Setting groups up for success requires deliberate effort. When groups work together, the experience can be positive:
Develop higher level thinking skills by recognizing and respecting diverse perspectives 
Increase student self-esteem and accountability as members contribute in meaningful ways to the group
Develop oral communication and social interaction skills as members express their point of view, negotiate group decisions, and navigate conflict
Foster team building, problem-solving, and stronger outcomes in an environment rich with active, involved, exploratory learning
Does this describe the cooperative learning environment in groups in your class? Let's break down how to make this happen more often!
How Do Groups Form?
At Wentworth in classrooms and across campus, groups are commonly formed to explore real-world problems and challenges; collaborate on project-based problems, often working interdisciplinary and possibly with external resources -- EPIC learning; and discuss, debate, and negotiate agreements based questions with which the group must grapple.
Explore the Tuckman Model for Group Development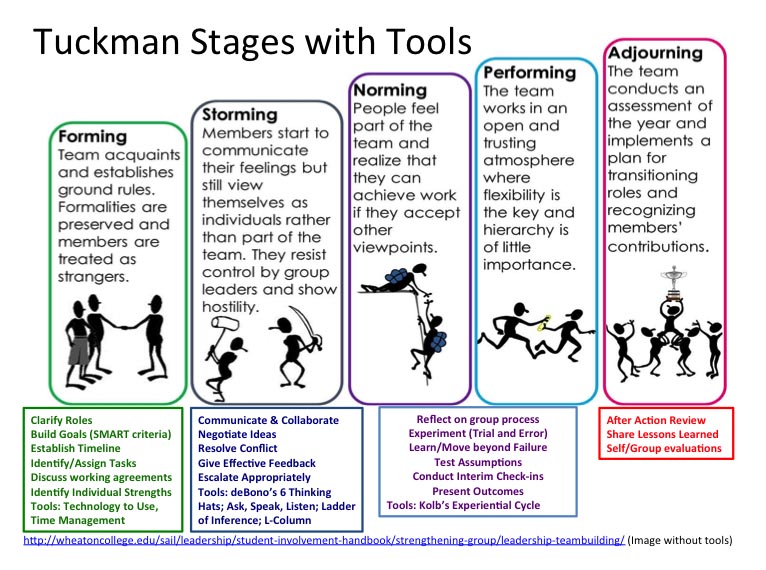 Groups naturally navigate through stages of development as they begin working together, negotiate agreements, experience conflict, and deliver results. Many group development models and approaches navigate through similar stages in a linear or nonlinear fashion. Each stage is characterized by certain behaviors and group actions.
Check out the Tuckman Model for Group Development (see graphic) with helpful tools and guidelines geared specifically for each stage. We invite you to use these tools, customize the pieces that make the most sense for your course and discipline and embed the most relevant information into your class materials. We would love to hear how it goes so please share what you did, what worked, what didn't, and tips for the next time!
Use and Customize Tools that Help Students Navigate Different Group Stages
Forming Stage
Group members get to know each other, establishing ground rules and working norms.
Storming Stage
Group members experiment, experience conflict, and navigate difficult conversations.
Norming/Performing
Group members feel part of a team, accept each other's viewpoints, work in an open trusting way and are flexible.
Adjourning
Group members complete their group deliverables and conduct an assessment to harvest lessons learned and recognize member contributions.
Explore Technology Tools Available for Group Collaboration
There are many tools that groups can use to collaborate, collect data, share files, and meet virtually. Contact us for help using these tools:
Groups within Blackboard with discussion space and document storage
Blogs or Discussions in Blackboard and WordPress for collaboration
Store documents in Google Docs or One Drive using Wentworth Credentials
Meet virtually using GoToMeeting, Lync, Skype, Google Hangouts
Social Media to Connect: Twitter, Instagram, Facebook, MySpace