Streamline Course Preparation
Blackboard can assist with streamlining course preparation and management. Templates provide structure for content and facilitate easy student access. Additional templates can be adopted to support different teaching and learning strategies. Once a course has been built in Blackboard, content can be copied from term to term. Date management tools provide quick revision of dates across your course. The Qwickly building block allows instructors to send messages and post content to multiple course sections at one time. If appropriate, instructors can merge courses to further streamline course management. 
In the near future integration between Blackboard and Banner will allow sending midterm and final grades back to Banner with a few easy keystrokes. Smart views in the Grade Center facilitate grade entry for multi-section courses or for courses with many assessment items.
Use a Template
Templates provide a common structure for easy student access. A basic template is applied to most day courses and additional templates are available to provide support for different teaching and learning strategies or to meet departmental instructional needs.
Examples of two of our Day Templates:


Course Copies and Merges
Once you've created course content, copy it from term to term instead of uploading it again. Date Management allows you to quickly revise dates associated with content, assignments, and tests.
If you teach multiple sections of the same course, consider merging the sites, upload once rather than multiple times. SmartViews in the Grade Center can be used to facilitate multi-section grading.
Qwickly
Use Qwickly, available on the My Wentworth page, to post announcements, content, assignments, and send an e-mail to multiple sections/courses at one time. You can also make your course available through this tool. Currently, this tool is appearing near the bottom of the My Wentworth tab in Blackboard - scroll down to see it.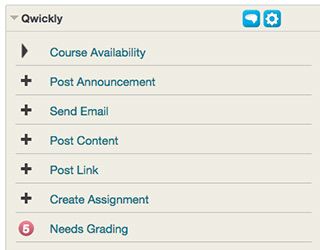 Course availability can be changed by clicking on the Course Availability link in the Qwickly module and clicking on the On/Off button for the course you want to change.
Posting announcements and content to multiple sections is as easy as clicking on the link, choose the courses you want to receive the announcement or to which you want to post content, add any attachments and click submit to make the changes.
To learn more refer to the  Qwickly Guide or Watch Videos on using Qwickly.
If you are already in a course you can still make a course available from the control panel. 
Grade Submission to Banner
Submitting midterm and final grades is getting easier. The integration of Blackboard's Grade Center with Banner will permit instructors to choose which Grade Center column has the requisite grades and after verifying the student grades, submit with the click of a single button. Grade submission from Blackboard to Banner is being implemented during Spring term 2016 and will go live for Summer 2016. Watch the LIT blog for developments! Watch this space for documentation and support materials for the new grading workflow.
UPDATE: In addition to setting a column as the "External Grade" instructors should set the primary display of the column for grades to populate the midterm and final grade columns as either score or percentage. Grades for the External Grade column must be numeric in order for the system to populate the Banner Grade Submit page. If you want students to see the letter grade, change the grade display after you have submitted grades to Banner.
Blackboard Mobile Apps
Blackboard has mobile applications for students and instructors.  Blackboard is the new student-centric app that permits students to interact with their Blackboard course from a mobile device. Bb Grader is an iOS app for instructors that supports grading on mobile devices.
How to Guides and Resources